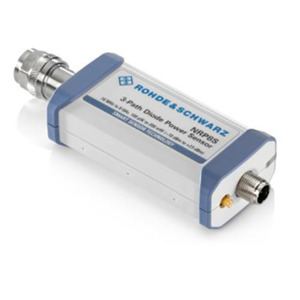 Description

Specifications

Documents
NRP8S: 10 MHz to 8 GHz
Level range: -70 dBm to +23 dBm
100 pW to 200 mW
>50 000 readings/s
10,000 triggered measurements/s
Dynamic range: –70 dBm to +23 dBm
Trigger I/O port directly on the sensor
Detachable cables with different connectors (e.g. USB)
High measurement accuracy across entire level range
Perform fast and accurate measurements of low levels
Operation with NRP2 base unit, a laptop/PC and many Rohde & Schwarz instruments
Taking power measurements to the next level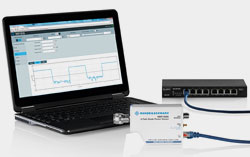 The NRP8S/SN, NRP18S/SN, NRP33S/SN three-path diode power sensors are self-contained, fully characterized instruments. They can be operated with the R&S NRP2 base unit, with a laptop/PC via USB, and with many Rohde & Schwarz instruments (e.g. signal generators, signal and spectrum analyzers, network analyzers). The NRP8SN, NRP18SN and NRP33SN power sensors additionally offer LAN capability, allowing remote control over large distances.
The NRPxxS and NRPxxSN power sensors are based on an enhanced three-path technology. This substantially reduces the sensors' measurement noise, providing a lower measurement limit of -70 dBm and a dynamic range of 93 dB. The result is a significant enhancement in measurement speed and accuracy, especially at low levels. This applies to CW signals as well as to signals of any bandwidth and type of modulation.
Minimizing measurement uncertainty
Even complex test setups represent no challenge for the NRPxxS/SN power sensors. Unwanted effects such as cable losses and reflections can be compensated using offset, S‑parameter and Gamma correction.
Alternate Product Number: 
1419.0006.02