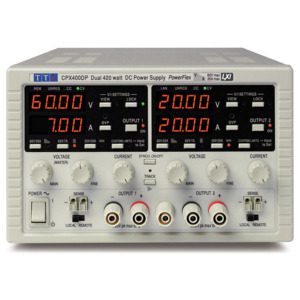 £1,590.00
EACH
Inc. VAT (20%)
Description

Specifications

Documents
CPX Series Features:
Dual output: 2 x (0 to 60 V / 0 to 20 A); 420 W x 2 Max.
Constant voltage or constant current operation
Isolated outputs can be wired in series or parallel for 120V or 20A
Constant voltage or constant current operation
Settings Locking (S-Lock)
PowerFlex or fixed-range operation
Variable OVP trips
4-digit fixed resolution meters; selectable remote sensing
Compact 1/2-rack 3U case
RS232, USB, GPIB & LXI compliant LAN along with rear terminals (CPX200DP)
Three-year warranty
High power and dual outputs
The CPX400D and CPX400DP are the highest power variants of the CPX series. PowerFlex regulation enables the 840 watts of total power to be configured to suit each specific application. The two 420 watt outputs can each supply up to 60 volts or up to 20 amps. Isolated tracking enables the outputs to be wired in series or parallel while controlled from a single voltage adjustment for up to 120 volts or 40 amps. The CPX400DP includes rear terminals and USB, RS232, GPIB and LXI compliant LAN interfaces.
Analog controls with digital stability offered by S-Lock
Although digital controls suit many instruments, they do not necessarily suit a bench power supply. The CPX400D and CPX400DP offer the speed and simplicity of conventional analog controls for setting voltage and current. Digital controls may offer greater precision, The main disadvantage of analog controls is stability and security. The settings of analog potentiometers can drift over time. More importantly, the settings can be changed accidentally with potentially serious consequences. The CPX series incorporates S-Lock. One press of the Lock button transfers control of voltage and current from the analog controls to internal digital circuitry. This offers not just complete security, but exceptional stability as well with each setting controlled by an instrumentation quality DAC.
Isolated voltage tracking for maximum flexibility
The two outputs of the CPX400D and CPX400DP are completely independent and electrically isolated from each other. With V-Track selected, the two outputs remain electrically isolated, but the voltage control of the Master output sets an identical voltage on the Slave output. This enables the user to create two rails of either polarity and to reference them to different grounds if necessary (e.g. digital ground and analog ground). Alternatively the outputs can be wired in series or parallel to create a voltage capability up to 120V or a current capability up to 40A with the voltage set using a single control.
Independent and simultaneous output control
The Both On/Both Off button is in addition to the individual switches for each output, and allow both outputs to be turned on or off synchronously by a single button press. Synchronous switching of the outputs is of increasing importance for circuitry which can be damaged if one voltage rail is present without the other.
Precision metering and remote sense
Separate voltage and current meters on each output give a resolution of 10mV and 10mA. The fixed resolution avoids the misinterpretation of readings that can occur with auto-ranging 3 or 3-1/2 digit meters where the decimal point position moves as the reading changes. Coarse and fine voltage controls are provided. The current control is logarithmic enabling low current levels to be set accurately. A View Settings button enables limit settings to be checked and adjusted at any time. Each output incorporates remote sense terminals that can be enabled or disabled at the flick of a switch. Remote sensing is essential for maintaining precise regulation at the load and true metering of the load voltage.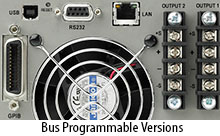 CPX400DP: Remote control via GPIB, RS-232, USB and LAN interfaces
The CPX400DP offers full remote control and read-back using RS-232, USB, GPIB or LAN (compliant with LXI class C). All interfaces are at ground potential and opto-isolated from the output terminals. Note: Remote/Local Sense, is manually selectable only. Additionally, An IVI driver for Windows is supplied with the CPX400DP. This provides support for common applications such as LabView, LabWindows, HPVEE etc.

Safety binding-post terminals
All CPX series power supplies are fitted with the new TTi designed output terminals. As well as acting as conventional binding posts for bare wires, spade connectors, or standard 4mm plugs, these can accept a 4mm safety plug with rigid insulating sleeve, a requirement specified by an increasing number of laboratories for safety reasons. Limited opening length combined with raised insulated shoulders also make these terminals "touch proof" for voltages up to 250V.
Number of Outputs: 
Dual Output
Input Voltage: 
110-240 VAC
Special Features: 
Remote Sense
Interface: 
GPIB,USB,LAN,RS-232
£1,590.00
EACH
Inc. VAT (20%)