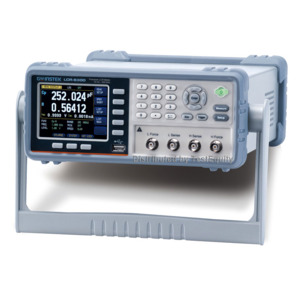 £1,866.77
EACH
(Inc. VAT 20%)
Description

Specifications
5 Models: 10 Hz to 2 kHz / 20 kHz / 100 kHz / 200 kHz / 300 kHz; 4-digits resolution
3.5" Color LCD
Consecutive Test Frequency
Basic Accuracy: 0.05%
Measuring Speed up to 25ms (Max.)
Full Frequency Range or Spot OPEN/SHORT
16 Major/Secondary Parameter Measurement Combinations and Two Additional Monitoring Parameters (Maximum Four Different Parameters Can be Shown Simultaneously)
DCR Measurement and Internal D.C. Bias Voltage (±2.5V)
PASS/FAIL Judgment
Auto Level Control (ALC) Function
Bin Function Provides 9 Bin and l AUX, Total 10 Bins
10 Step List Tests to for Different Frequency, Voltage and Current Criteria
Standard Interface: RS-232C, Handler and USB Storage
Compact Size (2U,1/2-Rack Width)
Warranty: 2 years on instrument, 1 year on LCD display
The compact LCR-6000 Series works in small spaces
The five models in the GW lnstek LCR-6000 series have a test frequency range that extends to 300 kHz and have a basic accuracy of 0.05%. Their compact size design, 2U height and l/2 rack width, makes them suitable for either bench top or system rack operation. And their ability to display both settings and results concurrently makes them an excellent tool for R&D, production testing and IQC.
Rich functionalities with the compact size
The LCR-6000 Series offers two additional monitoring parameters, and simultaneously displays four parameters: primary/secondary, and two monitoring parameters. The 3.5-inch color LCD display indicates the measurement results, and also provides PASS/FAIL information.
Save time in repeated settings
The LCR-6000 series has l0 memory sets allowing you to select test criteria and up to l0,000 stored measurement results. The USB host allows easy access to recorded results without connecting the LCR meter to a PC. The USB host also retrieves and saves screen-shots for future reference.
The LCR-6000 Series comes with two zero methods without powering down to save you time. Optional DC Current and DC Voltage bias accessories are also available. And a convenient USB host port is provided to store settings or measurements for later analysis.
The LCR-6000 series also features diverse ancillary measurements to meet the measurement requirements of different materials. For instance, the series provides the automatic level control (ALC) function to satisfy the test voltage requirement of MLCC. For inductive component measurements, the series provides the adjustable test current function and the D.C. resistance measurement function. The optional external bias current adapter (LCR-17, ±2.5A) satisfies the measurement requirements. With respect to the D.C. bias voltage test for capacitive components requirements, the series allows you to conduct verification measurement on materials by its internal ±2.5V adjustable voltage or via an optional external bias voltage adapter (LCR-16, ±45V).
LCR-6000 high-precision LCR meters
| | | | | |
| --- | --- | --- | --- | --- |
| LCR-6002 | LCR-6020 | LCR-6100 | LCR-6200 | LCR-6300 |
| 10 Hz - 2 kHz | 10 Hz - 20 kHz | 10 Hz - 100 kHz | 10 Hz - 200 kHz | 10 Hz - 300 kHz |
Included: User Manual/PC software on CD, LCR-06A Test Lead, Safety Sheet and Power cord.
£1,866.77
EACH
(Inc. VAT 20%)