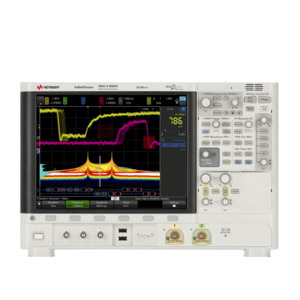 Description

Specifications

Documents
1 GHz bandwidth (upgradable to 2.5, 4, 6 GHz)
20 GSa/s sampling rate
4 Analog channels plus 16 Digital Channels
> 450,000 wfms/sec update rate
Max memory depth: 4 Mpts
12.1-inch capacitive multi-touch screen with InfiniiScan Zone touch trigger
Industry-leading noise floor and waveform update rate
Standard histogram and color grade, plus enhanced color FFT
Optional jitter and real-time eye diagram analysis
The power of 6 integrated instruments in 1, fully upgradable: Oscilloscope, 16 digital channels, serial protocol trigger and decode (option), dual-channel function/arbitrary waveform generator (option), 3-digit digital voltmeter (option), 10-digit counter and totalizer (option)
Voice control in 14 languages
Three-year warranty
The New Bandwidth Standard: Capture higher-frequency waveforms
The IniniiVision 6000 X-Series oscilloscopes are designed for the most demanding engineers who want bandwidth, visualization power and the flexibility that comes with integrated capabilities, in a portable package with a familiar embedded OS user interface — all at an affordable price. The IniniiVision 6000 X-Series delivers to 6 GHz bandwidth and a 20-GSa/s sampling rate so you can confidently measure signals with rise times faster than 150 ps or signals with higher than 2 Gbps NRZ (non-return to zero) data signal rates.
New visualization standard: Isolate waveforms of interest
Additionally, the 6000 X-Series set the new visualization standard with an industry-leading 450,000 waveforms-per-second update rate that lets you see more of your signal behavior so you have more confidence in your design. Standard segmented memory turns the oscilloscope into an effective ultra-deep memory capture tool.
Portability and a familiar embedded OS user interface
With the industry's largest 12.1-inch capacitive touch screen with multi-touch and voice control, you may be surprised just how easy it is to use the InfiniiVision 6000 X-Series. It is "designed for touch," so you spend less time setting up your scope and more time designing and testing. And capabilities such as the innovative InfiniiScan Zone touch trigger let you simply draw a box around the signals of interest, and the scope creates the trigger for you.
Integrate a digital bus
With 16 integrated digital channels probed by a newly designed digital channel cable, you now have up to 20 channels of time-correlated triggering, acquisition, and viewing on the same instrument. This capability is especially important in today's embedded designs with sophisticated digital control circuitry.
Bandwidth options
| | | | | |
| --- | --- | --- | --- | --- |
| | 1 GHz | 2.5 GHz | 4 GHz | 6 GHz |
| For 2 channel models | Default | DSOX6B10T252BW | DSOX6B10T402BW | DSOX6B10T602BW |
| For 4 channel modes | Default | DSOX6B10T254BW | DSOX6B10T404BW | DSOX6B10T604BW |
Sample model configurations
1 GHz, 4 + 16 channel: MSOX6004A only
4 GHz, 4 + 16 channel: MSOX6004A and DSOX6B10T404BW
Included: Certificate of calibration (2-year calibration interval), N2894A 700-MHz 10:1 passive probe (one per channel), N2756A 16-digital-channel MSO cable, multi-language support interface, voice control support, power cord, front panel protective cover, and user's guide, service guide, and programmer's manual on CD.
Display Type: 
12.1 Capacitive Touch