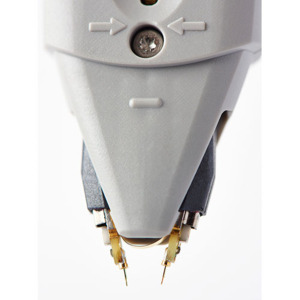 £4,149.60
EACH
Inc. VAT (20%)
Description

Specifications

Documents
Measurement accuracy, spring-loaded tips
12 GHz bandwidth (when used with 1169A)
Extremely low loading (0.21pF – about the same as the N5381B solder-in head)
Ground spring helps maintain probe's frequency response constant regardless of span range setting
Thumbwheel controlled span adjustable from 0 mm to 3 mm
Comes with browser head, 20x replaceable tips, protective cap and ESD-safe tweezer
Compatible with InfiniiMax I (1130A/31A/32A/34A) and InfiniiMax II amplifiers (1168A/69A)
The N2839A differential browser head brings the measurement fidelity of a solder-in probe head to hand-held browsing. When used with the InfiniiMax II 1169A probe amplifier, the N2839A gives users 12 GHz of bandwidth, making this the most usable hand-held browser solution for measuring high-speed differential or single-ended signals.
The spring-loaded probe tips of the N2839A ensure a secure connection to the DUT. The probe tips can be adjusted to accommodate targets from 0mm to 3mm apart using the thumbwheel and can be easily and quickly replaced if accidental damage occurs. The low-inductance ground spring ensures that the probe's frequency response remains constant regardless of the span range setting.
Unlike conventional probe browsers in this class, the N2839A provides extremely low probe loading. As the signal speed increases, the capacitance element of the probe's input becomes a dominant factor in determining the amount of probe loading. The larger the input capacitances, the more the probe may load the DUT or affect the response of the measurement when the measured frequency increases. The N2839A provides 0.21 pF of low input capacitance, which is just as low as that of a solder-in head, minimizing the probe effect in measuring high-speed signals.
£4,149.60
EACH
Inc. VAT (20%)