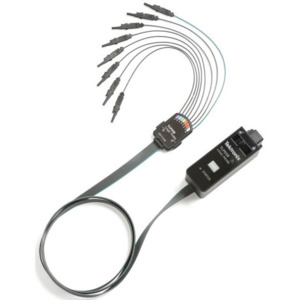 Description

Specifications

Documents
Tektronix TLP058 FlexChannel Logic Probe for use with 4, 5, and 6 Series MSO Oscilloscopes.
Features:
8-channel general purpose logic probe
500 MHz
6.25 GS/s Maximum sample rate
Threshold voltage ±40 V
Input resistance: 100 kOhm ±1.0%
Input capacitance: 3.0 pF
Minimum input signal swing: 400 mV p-p
Maximum nondestructive input signal: 30 V p-p, ± V peak, ±50 VDC
Probe length: 1.0 m (3.28 ft)
Includes accessory kit
Compatible Instruments
4 Series MSO
5 Series MSO
5 Series MSO Low Profile
6 Series MSO
6 Series B MSO
The TLP058 FlexChannel logic probe connects all instruments with FlexChannel inputs to digital buses and signals on your device under test (DUT). The probe contains 8 data channels. All leads include a ground connection at the tip. You can connect the probe leads separately to the target system, or group the leads together using the probe tip holder. Enable up to a maximum of 64 digital channels (oscilloscope model dependent).
Series: 
FlexChannel Series
Series Compatibility: 
4 Series MSO, 5 Series MSO, 6 Series MSO, 6 Series B MSO
Max Input Voltage: 
50 VDC