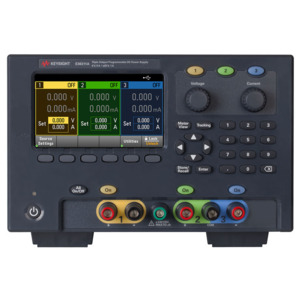 Description

Specifications

Documents
80 Watts maximum from 3 outputs:

1 x 0 to 6 V, 0 to 5 A
2 x 0 to ±25 V, 0 to 1 A

4.3-inch LCD color display
Color-coded channels
Individual knobs for voltage and current
All channels electrically-isolated w/ individual on/off
Excellent programming/readback accuracy
Low output ripple and noise
Excellent line/load regulation: 0.01%
Fast transient response time: < 50 μs
Small current measurement: 80 μA
Low acoustic noise
USB communication port
Output coupling
Tracking & Triggering
Over voltage, over current and over temp protection
Three-year warranty
The Triple Output E36300 Series Gives You the Performance of System Power Supplies
On the bench, the triple output E36311A is ready for your application. With low output ripple/noise and accurate voltage/current measurement, you can test with confidence — and power your next insight.
More confidence to power your design
The accurate voltage/current programming and readback capability provide excellent control on the power supply and power measurement. The low, normal mode noise specifications assures quality power for precision circuitry applications, enabling you to power your design with confidence. Besides the 0.01% load and line regulation, the 80 watt E36311A can also maintain a steady output when power line and load changes occur.
More convenience and productivity with intuitive and easy-to-use front-panel interface
The 4.3-inch LCD color display can show the voltage and current of all three channels at the same time, and the color-coded channel also simplifies manual set-up. Two individual knobs for voltage and current with rotary encoder control for precise setting, and keypad allow quick adjustments and configurations in less time. The user E36311A interface is intuitive and makes operation easy and improves your productivity.
More test throughput via connectivity and programming languages
The E36311A ships standard with USB and supports the easy-to-use SCPI (standard commands for programmable instruments) programming language that lets you create fast and simple programs with transient response faster than 50 μs and fast command processing time less than 10 ms. You can also program the instrument with the power supply's interchangeable virtual instruments (IVI) driver.
More protection for your device under test (DUT)
The E36311A is fully integrated with Over Voltage Protection (OVP), Over Current Protection (OCP), and Over Temperature Protection (OTP) in order to prevent damage to the DUT. Security features such as the keypad locking capability precludes accidental front panel usage. Its physical lock mechanism ensures secure instrument storage.
Less cost and saves space with independent outputs
All three outputs on the E36311A can be turned on and off independently, so you are essentially getting three power supplies in one instrument, saving maintenance cost as well as bench space, as you can power up multiple analog/digital circuitries or devices with a single instrument.
Less acoustic noise
The E36311A, like all E36300 Series models, is one of the quietest power supplies in its class. It automatically lowers the fan speed under the load / no load condition to eliminate annoying acoustic noise through a thermal control circuit. At a typical noise level of less than 26 dBA under no load condition and less than 50 dBA under full load condition, it allows you to work in a quiet and undisturbed environment.
Front output terminals
The E36311A uses 3-way binding posts on the front panel for connection to the DUT. The binding posts accept standard banana plugs, bare wire, and spade-lug connectors. To avoid setup and connection errors, the binding posts are color-coded to the control keys and the display. In addition to the standard banana binding post, the E36311A offers an option of recessed binding posts, allowing complete insulation of front panel connections.
Number of Outputs: 
Triple Output
Output Voltage: 
-25V, 6V, 25V
Output Current: 
1A x 2, 5A
Special Features: 
Isolated Outputs