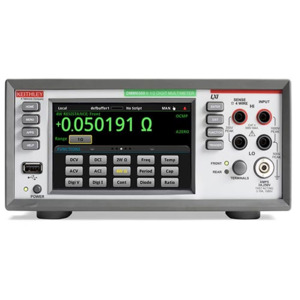 £1,524.00
EACH
(Inc. VAT 20%)
Description

Specifications

Documents
15 measurement functions including capacitance, temperature, and digitizing
Expanded measurement ranges include 10 pA to 10 A and 1 mΩ to 100 MΩ
Large 5-inch (12.7 cm), 6-1/2 digit, multi-touch capacitive touchscreen with graphical display
Large internal memory; store up to 7 million readings
Multiple language modes: SCPI, TSP® scripting, Keithley 2000 SCPI emulation, Keysight 34401A SCPI emulation
Two-year specifications allow for longer calibration cycles
Standard USB-TMC and LXI/Ethernet communication interfaces
Optional user-installable communication interfaces including: GPIB, TSP-Link®, and RS-232
Capture voltage or current transients with 1 MS/sec digitizer
USB host port for storing readings, instrument configurations, and screen images
Three-year warranty
Your 6-1/2 Digit Go-to Bench Tool
The DMM6500 is a modern bench/system DMM combining expansive measurement functionality with best-in-class measurement insight. The most recognizable feature of the DMM6500 is the large 5-inch (12.7 cm) capacitive touch screen display that makes it easy to observe, interact with, and explore measurements with "pinch and zoom" simplicity. Beyond its display technology, the DMM6500's superior analog measurement performance delivers 25 PPM basic DCV accuracy for one year and 30 PPM for two years, potentially allowing you to extend your calibration cycles.
The DMM6500 is equipped with all the measurement functions you would expect in a bench multimeter, so there's no need to buy additional measurement capabilities. Its 15 measurement functions, including capacitance, temperature (RTD, thermistor, and thermocouple), diode test with variable current sources, and up to 1 MS/sec digitizing are now included.
The digitizing function can be used for voltage or current and is especially useful in capturing transient anomalies or to help profile power events such as the operating states of today's battery operated devices. Current and voltage can be digitized with a programmable 1 MS/sec 16-bit digitizer, making it possible to acquire waveforms without the need for a separate instrument.
Multi-channel/Scanning Applications
When characterizing or profiling your design it is often critical to make a series of measurements. In these applications the need for automated multi-channel measurements is advantageous. The DMM6500 is equipped with a scanner card slot allowing up to 10 channels of switching, giving you the capability to make automated multi-channel measurements. Plugging in the 2000-SCAN card gives users up to 10 channels of 2-pole measurements or 5 channels of 4-pole measurements. Functions can be programmed on a per-channel basis if supported by the switch topology.
Capture and Analyze Voltage or Current Transitions
Power analysis is becoming more important in today's electronic designs. Designers must now consider more efficient components and complex system design typically requiring multiple power states. The DMM6500 has the tools you need to help design and troubleshoot these complex systems. Eight different current ranges allow measurements from 10 amps down to 10 pico-amps, giving you the dynamic range to measure your power states. In addition, a built-in 1 MS/sec digitizing function can help capture transient events, allowing you to see and analyze transitions as they occur. Additionally, the DMM6500 is factory installed with application programs that appear when the instrument is used in the TSP or native SCPI communication language mode. These examples highlight the unique ability of the DMM6500 to run specialized applications which customize the user interface.
Temperature Measurement Applications
Temperature is one of the most measured signal types in the world, and the DMM6500 has many options to help you make this measurement. Besides RTD, thermistor, and thermocouple functions, you can equip your DMM with a nine-channel scanner card with built-in CJC for automated thermocouple temperature scanning. This feature is very useful when your design requires thermal profiling, especially when enclosed in a temperature chamber.
Ready-to-Use Instrument Drivers Simplify Programming
Prefer to create your own customized application software? Native National Instruments Labview®, IVI-C, and IVI-COM drivers are available for downloading to simplify the programming process. For the Labview® driver visit www.ni.com; for IVI drivers visit www.tek.com. And you have maximum programming flexibility with the DMM6500. In addition to traditional SCPI programming (default), the unit can also be configured for SCPI emulation for the Keithley 2000 or the Keysight 3446xA. Additionally, Keithley's powerful Test Script Processor (TSP®) programming is another option that allows unique single- or multi-instrument testing applications where speed is critical.
KickStart Instrument PC Control Software
KickStart allows you to configure, test, and collect data from multiple instruments, including DMMs, power supplies, SMU instruments, and dataloggers. You can control up to eight instruments at the same time and retrieve millions of readings from each instrument. This makes KickStart a great solution for your datalogging needs and for capturing lots of data from transient events with a digitizing DMM. Getting insights quickly is important, so KickStart plots your data immediately and dedicates a large portion of the viewing area to the graph, while also allowing you to view and edit the most essential parameters of other instruments in your test setup. Kickstart also includes comparison tools to allow you to plot and overlay data from the run history of each test.
Included with DMM6500: 1757 Test Lead Set (1,000 V), one 3.3' (1 M) Type A to Type B USB Cable and Traceable Calibration Certificate.
Display Type: 
5 Capacitive Touchscreen
Basic DCV Accuracy: 
25 ppm
£1,524.00
EACH
(Inc. VAT 20%)