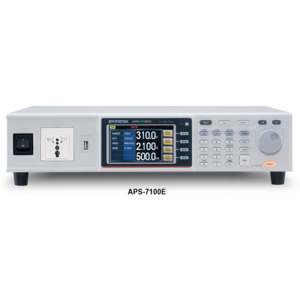 Description

Specifications

Documents
4.3 inch TFT-LCD Display
Output Capacity:

APS-7050E: 500 VA, 310V rms, 4.2/ 2.1 Arms
APS-7100E: 1000 VA, 310 Vrms, 8.4/ 4.2 Arms

Frequency: 45.0 - 500 Hz
Only 88mm (2U) case height
Measures Voltage, Current, Power, Current (peak), Frequency, Power Factor
10 sets of Preset allow users to store ten settings
OVP, OCP and OTP protection
Variable voltage, frequency and current limiter
Two-year warranty
GW Instek's APS-7000E Series is the economy version of their APS-7000 programmable AC power source. The APS-7050E and APS-7100E linear AC power supplies have 2U height and an output frequency range of 45 - 500 Hz. The maximum rated output for APS-7050E is 500 VA, 310 Vrms, 4.2 Arms; and APS-7100E is 1000 VA, 310 Vrms, 8.4 Arms. The APS-7000E series comprises six measurement and test functions (Vrms, Irms, F, Ipk, W, PF), and provides user interface similar to that of AC Power Meter. The APS-7000E series, via switching many sets of current levels to increase small current measurement resolution, is ideal for the LED industry and standby mode power consumption test.
To meet the test criteria of line voltage fluctuation often seen in consumer electronics, the APS-7050E and APS-7100E not only supply a stable AC source, but also feature Test mode to satisfy special or abnormal voltage and frequency variation demands. Test mode simulates power outage, voltage rise, and voltage fall, simulating waveforms of a power grid's transient changes.
The APS-7050E and APS-7100E are ideal for testing DC power supply devices, consumer electronics, automotive electronics and electronic components — as well as incoming Q.C. and R&D, and small current measurement applications.
APS-7050E
APS-7100E
Power Rating
500 VA
1000 VA
Output Voltage Setting Range
0 to 155Vrms, 0 to 310Vrms, Auto
Output Maximum Current Range
4.2A/2.1A
8.4A/4.2A
Outputp Maximum Peak Current Range
16.8A/8.4A
33.6A/16.8A
Dimension (W*H*D mm) & Weight
430x88x400, 24kg
430x88x560, 38kg
Included: user's manual on CD, power cord, main terminal cover set and one (1) set GTL-123 test leads.