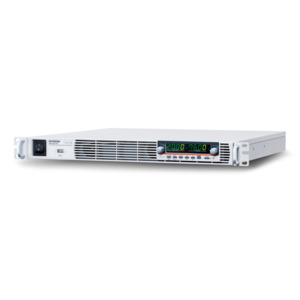 £2,377.78
EACH
(Inc. VAT 20%)
Description

Specifications

Documents
PSU 60-25 Programmable Switching D.C. Power Supply
Specs:
Output Voltage: 60V
Output Current: 25A
Power Rating: 1.50kW
Features:
C.V / C.C Priority
Adjustable voltage/current rise and fall time
Series/ Parallel Connection: Max. 2 Units(Models Under 300V)/ 4 Units of The Same Model
High Efficiency and High Power Density
1U Height and 19-inch Rack Mount Size
Standard Interface: USB, LAN, RS-232, RS-485, Analog Control
Optional Interface: GPIB, Isolated Analog Interface(Voltage Control/ Current Control)
2 Year Warranty
Standard Accessories:
CD-ROM x 1(User Manual, Programming Manual)
Output terminal cover x 1
Analog connector plug kit x 1
Output terminal M8 bolt set(6V-60V model)
Input terminal cover x 1
1U Handle(RoHS)
1U Bracket(LEFT, RoHS)
1U Bracket(RIGHT, RoHS)
Note: Power Cord Not Included, Sold Separately
GW Instek PSU-Series, a DC power supply with high power density design, is 1U in height and compatible with 19-inch Rack Mount Size. The series is suitable for test system installation or system integration by flexibly selecting models for the integration into the existing test system. The PSUSeries, featuring superior voltage and current control functions, comprises fifteen models with output voltage/current ranging from 6V/200A to 600V/2.6A. The Series is suitable for different test conditions and DUTs, including electronic components testing, micro resistors, relays, shunt resistors, 12V/24V/48V battery simulation, and automotive electronic device testing.
Utilizing same model units of the PSU-Series to conduct series and parallel connections can increase total output power, total current or total voltage. The wide voltage and current output ranges of the PSU-Series can fully satisfy various voltage and current measurement requirements. The PSU-Series is a single power output DC programmable power supply, which outputs 1200W to 1560W. The PSU-Series provides maximum 2 units in series connection (models under 300V) to achieve maximum 600V or 4 units in parallel connection to obtain maximum 800A and the maximum output power of 6.24 kilowatts.
The PSU-Series allows settings for CC priority or CV priority. Under CC or CV mode, users can adjust slew rate for output voltage or current based upon test requirements. There are two kinds of slew rate settings: high speed priority and slew rate priority. High speed priority sets slew rate at the maximum speed to reach CC or CV mode. Slew rate priority allows users to set slew rate for CC or CV mode in order to control rise or fall slew rate. Slew rate priority mode is ideal for motor tests by adjusting the rise time of output voltage to protect DUT from being damaged by inrush current occurred at turn-on.
The PSU-Series provides users with flexible settings of High/Low Level or Trigger input/Trigger output signals with pulse width of 1 ~ 60ms. Trigger input controls PSU to output or upload preset voltage, current and memory parameters. While outputting or uploading preset voltage, current and memory parameters PSU can produce corresponding Trigger output signals.
Number of Outputs: 
Single Output
Voltage Range Selector: 
3) 50-99.9
Current Range Selector: 
4) 20-29.9
Mounting Type: 
Rack Mount
Input Voltage: 
85-265 VAC
Power Range Selector: 
3) 1,000-2,499
Special Features: 
OVP, OCP, OHP, UVL, AC Fail, FAN Fail
Interface: 
USB,LAN,RS-232,RS-485
£2,377.78
EACH
(Inc. VAT 20%)