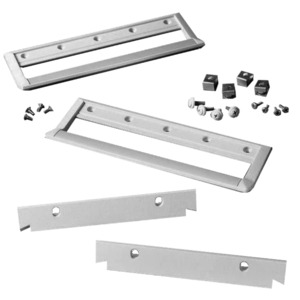 £206.40
EACH
(Inc. VAT 20%)
Description

Specifications

Documents
1CP108A Rackmount Flange and Handle Kit
Rackmounts including handles accessory products are factory-designed to aid in lifting and maneuvering Keysight products and to cleanly adapt Keysight's product frames to standard rack cabinets.
Specs:
132.6mm (5.25 in) Height Instruments (3U)
Two brackets and front handles- Palette 2015
Screws supplied
Support rails required
New Phantom Gray color
Instrument Compatibility with Racks
Keysight's modular cabinet system offers bench-stacking and rack-mounting versatility. These cabinets are designed for compatibility with EIA and IEC standards, both in width and height. Modular cabinets are currently defined as System II instruments and are in standard sizes.
3 EIA - 88.1mm (3.5 in) H
4 EIA - 132.6mm (5.25 in) H
5 EIA - 177.0mm (7 in) H
6 EIA - 221.5 mm (8.75 in) H
7 EIA - 265.9 mm (10.5) H
Handles and rack flanges find most use on full width modules or combinations of narrower modules locked together to form one module width (MW).
£206.40
EACH
(Inc. VAT 20%)