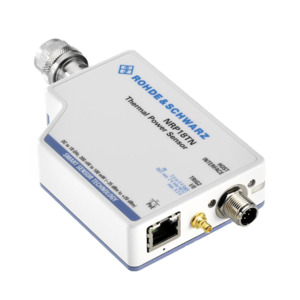 Description

Specifications

Documents
Rohde & Schwarz Thermal power Sensors

The NRPxxT(N) thermal power sensors feature an unparalleled linearity of 0.007 dB (0.16%) up to 67 GHz and 0.010 dB (0.23%) between 67 GHz and 110 GHz. The NRPxxTWG thermal power sensors feature a linearity of 0.010 dB (0.23%) between 50 GHz and 110 GHz – the ideal choice for performing relative measurements.

Outstanding performance for reference applications
Thermal power sensors are especially used for complex measurement tasks where highest accuracy counts. They tolerate any type of modulation and to improve measurement accuracy, the hardware of the NRPxxT(N)/TWG thermal power sensors is designed to reduce measurement noise to a minimum and to make the sensor immune to thermal environmental effects.

To achieve stable measurement results, the temperature in the thermal test cell must correspond to the applied power. When the power is increased, the sophisticated measurement cell of the NRPxxT(N)/TWG thermal power sensors quickly attains a stable temperature. When the power level is decreased, the excess heat is dissipated extremely quickly.

Consequently, thermal power sensors from Rohde & Schwarz are able to measure three times faster than comparable solutions on the market with triggered measurements and > 500 measurements/s in buffered mode – with top accuracy.

Excellent impedance matching
To a large extent, measurement uncertainty results from multiple reflections at the source and power sensor caused by mismatch. To minimize these reflections, all thermal power sensors in the NRP family are excellently matched up to high frequencies, reducing measurement uncertainty.
Alternate Product Number: 
1424.6121.02