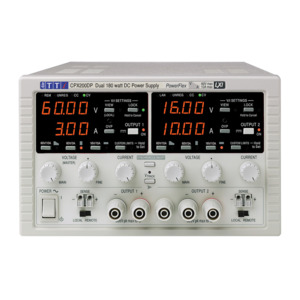 £1,269.60
EACH
Inc. VAT (20%)
Description

Specifications

Documents
CPX200DP - A new variant of the CPX series:
Replacing the CPX200, the CPX200D's wider PowerFlex range extends maximum voltage from 35 volts to 60 volts, while the maximum current of 10 amps is now available up to 16 volts rather than 12 volts. Existing CPX200 owners will appreciate the NEW features of S-Lock, Range Control, Voltage Tracking and Synchronous On/Off.

Features:
PowerFlex design gives variable voltage and current combinations within a maximum power envelope
Up to 60V and up to 10A per output (180W maximum)
Constant voltage or constant current operation
Low output noise and good transient response
PowerFlex or fixed-range operation plus custom limits
True analogue controls with digital settings locking
Independent outputs or isolated voltage tracking
Outputs can be wired in series or parallel for 120V or 20A
Variable OVP trips; safety binding-post terminals
4 digit fixed resolution meters; selectable remote sensing
Compact ½ rack 3U case for bench use or rack mounting
Duplicate terminals at rear on CPX200DP
Bench and System use:
The CPX200DP is a bus programmable version and includes all of the manual control features plus a full set of comprehensive digital interfaces. Remote control via GPIB, RS-232, USB and LAN interfaces with LXI compliance (CPX200DP only).
Number of Outputs: 
Dual Output
Input Voltage: 
110-240 VAC
Special Features: 
Remote Sense
Interface: 
GPIB,USB,LAN,RS-232
£1,269.60
EACH
Inc. VAT (20%)