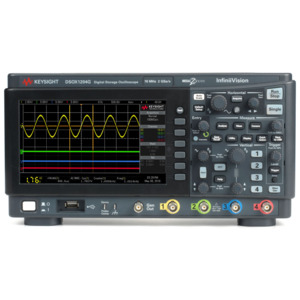 £1,716.00
EACH
(Inc. VAT 20%)
Description

Specifications

Documents
4-channels
70 MHz – upgradable to 100 MHz or 200 MHz
Sample rate: 2 GSa/s
Update rate: 200,000 wfms/sec with Keysight's 4th generation MegaZoom technology
Maximum memory depth: 2 Mpts
20 MHz Function Generator (includes Bode plot test)
Display: 7-inch TFT LCD WVGA
Six-in-one instrument integration
Mask Limit testing
Segmented memory
Up and running quickly with built-in help and training signals
Integrated digital voltmeter (Free with oscilloscope registration at Keysight's Web site)
Includes Serial protocol analysis: I²C, SPI, UART/RS-232; CAN, LIN
Connectivity: USB 2.0 (host and device), LAN, BenchVue ready
Three-year warranty
Test quickly and easily with a simple, intuitive user interface and built-in help and training signals
Keysight's InfiniiVision DSOX1204G oscilloscope offers quality and industry-proven technology in a value-priced oscilloscope. Now it's easy to get professional measurements and accessible expertise at your fingertips.
6-in-1 instrument integration
Get professional-level oscilloscope functionality with industry-leading software analysis and 6-in-1 instrument integration. The DSOX1204G gives you the following functionality, so you can save money and valuable bench space. And the DSOX1204G offers measurement and software analysis capability that rivals oscilloscopes 3x the price.
Hardware-based serial protocol decode and triggering
When you add optional software, the DSOX1204G is a powerful protocol analyzer that can do powerful decode and hardware-based triggering that enables specialized serial communication analysis. Instead of using software post-processing techniques that slow down the waveform and decode update rate, the DSOX1204G has faster decoding by using hardware-based technology that enhances scope usability and the probability of capturing infrequent serial communication errors.
Integrated Digital Voltmeter and Frequency Counter
Included with the DSOX1204G is an integrated 3-digit voltmeter (DVM) and 5-digit frequency counter. They operate through probes connected to the oscilloscope channels, but their measurements are decoupled from the oscilloscope triggering system so both the DVM, frequency and triggered oscilloscope measurements can be made with the same connection. You can quickly measure AC RMS, DC, and DC RMS without configuring the oscilloscope capture. The voltmeter results are always displayed, keeping these quick characterization measurements at your fingertips. Turn on the DVM and capabilities for no additional cost by registering your oscilloscope.
Connectivity and Remote control
Built-in USB host and device ports, as well as a standard LAN port, make PC connectivity easy. BenchVue Software with the BV0004B BenchVue Oscilloscope app lets you control and visualize the DSOX1204G and multiple measurements simultaneously. Build automated test sequences just as easy as using your front panel. Save time with the ability to export measurement data to Excel, Word, and MATLAB in three clicks. Monitor and control your oscilloscope with a mobile device from anywhere. LAN (included) supports remote web-based virtual front panel to control and to save data or images.
Included with DSOX1204G: Four (4) N2140A 1:1, 10:1 switchable 200 MHz probes, secure erase, calibration certificate and power cord.
Display Type: 
7 TFT LCD WVGA
£1,716.00
EACH
(Inc. VAT 20%)