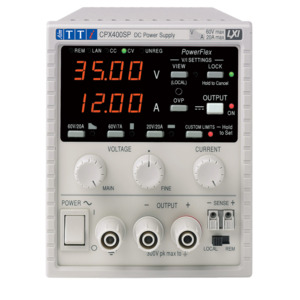 £1,078.80
EACH
(Inc. VAT 20%)
Description

Specifications

Documents
CPX Series - High power single output:
The CPX series is a different type of laboratory power supply designed to meet the need for flexibility in the choice of voltage and current. A conventional PSU has a fixed current limit giving a power capability that reduces directly with the output voltage. The TTi PowerFlex design of the CPX series enables higher currents to be generated at lower voltages within an overall power limit envelope.

Features:
Up to 60 volts and up to 20 amps
420 watts maximum per output
Isolated outputs can be wired in series or parallel
Constant voltage or constant current operation
Settings Locking (S-Lock)
PowerFlex or fixed-range operation
Variable OVP trips
Selectable remote sense terminals
Compact quarter or half rack 3U case size
Bench and System Use:
The CPX400SP is a bus programmable version and includes all of the manual control features plus comprehensive digital interfaces and rear terminals. Remote control via RS232, USB, GPIB & LXI compliant LAN (P models only).

Safety binding-post terminals
All CPX series power supplies are fitted with TTi designed output terminals. As well as acting as conventional binding posts for bare wires, spade connectors, or standard 4mm plugs, these can accept a 4mm safety plug with rigid insulating sleeve. Limited opening length combined with raised insulated shoulders also make these terminals "touch proof" for voltages up to 250V.
Number of Outputs: 
Single Output
Voltage Range Selector: 
3) 50-99.9
Current Range Selector: 
4) 20-29.9
Input Voltage: 
110/240 VAC
Power Range Selector: 
1) 200-499
Special Features: 
Constant Current, Constant Voltage
Interface: 
GPIB,USB,LAN,RS-232
£1,078.80
EACH
(Inc. VAT 20%)