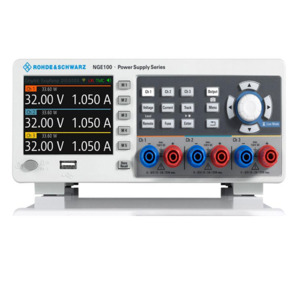 £1,536.48
EACH
(Inc. VAT 20%)
Description

Specifications

Documents
NGE103B Power Supply, 3 Channel, 100W, 32V/3A Package
Includes:
NGE-K101 Ethernet Remote Control
NGE-K103 Digital Trigger I/O
Accessories supplied: One set of power cables and quick start guide.
Features:
Number of output channels: 3
Output voltage per channel: 32V max
Output current per channel: 3A max
Power 100W
WiFi for remote control
*Note: The power rating determines the maximum available current for a given voltage output. For example, the NGE103B is rated as 32 V, 3 A, or 33.6 W per channel, but you cannot get 32 V and 3 A simultaneously. The maximum current at 32 V is 1.05 A (32 V x 1.05 A = 33.6 W per channel).


Reduced to the max
The R&S NGE103B 100 watt power supply offers high efficiency combined with low ripple plus a variety of comfort functions that are not usually found in this class of power supplies.

High efficiency combined with low ripple plus a variety of comfort functions
The NGE103B power supply features 100% electrically equivalent output channels. All outputs are earth-free and short-circuit-proof. The output channels can be combined in serial or in parallel to achieve higher voltages or higher currents.

To safeguard the instrument and the device under test (DUT), the NGE103B power supply provide a variety of protection functions. For each channel, you can separately set the maximum current (electronic fuse, overcurrent protection, OCP), the maximum voltage (overvoltage protection, OVP) or the maximum power (overpower protection, OPP). If such a limit is reached, the affected output channel will be switched off. Overtemperature protection (OTP) prevents overheating of the instrument.

All basic functions of the NGE103B power supplies can be operated via direct keys on the front panel. The rotary knob plays the central role in adjusting the voltage and current and setting the limits for the multipurpose protection functions. The operating conditions of all channels are displayed on the screen simultaneously. Active channels are indicated by the illuminated channel key. Active outputs are shown in green when working in constant voltage mode and in red when working in constant current mode. Inactive outputs are displayed in white.

Parallel and serial operation
Because all channels are electrically equivalent, they can be combined in serial mode to achieve higher voltages. Up to 96 V can be achieved with the NGE103B. In parallel mode, the channels can be bundled for higher current. Up to 9 A can be achieved when combining three channels.

Short-circuit-proof outputs
Whatever might happen when unskilled students gain their first experience in practical work with electronics, all outputs of the NGE103B power supply are short-circuit-proof and will therefore not be damaged.

Straightforward operation, tailored to be used in education, labs and system racks
All basic NGE100B Series functions can be operated via direct keys on the front panel — no need to maneuver through a jungle of menus. They offer the functionality you need in daily work — and with the NGE100B power supply series — even a bit more. Students should find all the functions they need for training, but should not be confused by exotic functions. Used in standard applications on the bench, power supplies should be affordable and robust, offering the necessary accuracy and speed. If the instrument is to be installed in a rack, remote control and rack integration are recommended. The NGE103B power supply series fulfills all these requirements.

In industrial applications, power supplies are often installed in 19" racks. The HZC95 rack adapter allows the NGE100B Series power supplies to be mounted in racks, including in combination with HMC test instruments. The NGE103B can be remotely controlled via USB or optionally via Ethernet or even via wireless LAN.


Alternate Product Number: 
5601.3800P88
Number of Outputs: 
Triple Output
Input Voltage: 
115/230 VAC
Special Features: 
Series, Parallel Modes
Interface: 
USB,LAN,DigitalTrigger
£1,536.48
EACH
(Inc. VAT 20%)