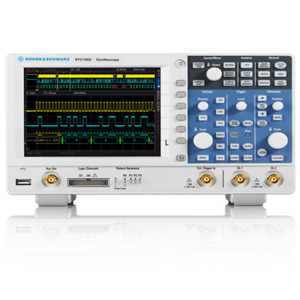 £3,168.00
EACH
Inc. VAT (20%)
Description

Specifications

Documents
RTC1002 Oscilloscope, 2-Channel, Package
Includes:
RTC-B223 - 300 MHz Bandwidth upgrade
RTC-B1 - Mixed Signal Option (MSO)
RTC-PK1 - Application Bundle:

RTC-K1 - I²C/SPI serial triggering and decoding
RTC-K2 - UART/RS-232/RS-422/RS-485 serial triggering and decoding
RTC-K3 - CAN/LIN serial triggering and decoding
RTC-B6 - Waveform generator
Features:
2 analog channels, plus 8 digital channels with MSO option
Maximum sampling rate (Gsamples/s) 1.25/channel, 2.5 interleaved
2 Msample memory depth
State-of-the-art A/D converters for low-noise measurements
640 x 480 px. 6.5" VGA color display
Wide selection of automatic measurement functions
QuickView: key results at the press of a button
Mask test: easy creation of a new mask with just a few keystrokes
Eight-in-one instrument
Three-year warranty
The R&S RTC1000 series is an X-in-one instrument that offers the functionality of an oscilloscope, logic analyzer, protocol analyzer, frequency analyzer, pattern generator, function generator, digital voltmeter and component tester in a single instrument.
High sensitivity, multifunctionality and a great price - that is what makes the R&S RTC1000 oscilloscope so special. From embedded developers to service technicians to educators - the wide range of functions address a broad group of users. State-of-the-art, high-performance technology in a fanless design meets the high requirements of today's customers.
Alternate Product Number: 
1335.7500P97
Special Features: 
AWG, MSO
Interface: 
I2C, SPI, UART, RS-232/422/485, CAN, LIN
£3,168.00
EACH
Inc. VAT (20%)