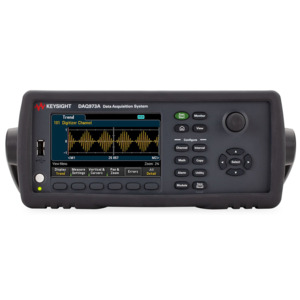 £3,098.40
EACH
(Inc. VAT 20%)
Description

Specifications

Documents
DAQ973A Data Acquisition System Mainframe
Mainframe for housing DAQM plug-in modules. Interface with the DAQ using Keysight BenchVue DAQ software or use the intuitive graphical front panel with task-oriented, self-guiding menus.
Mainframe Capabilities:
Supports 8 switch and control plug-in modules (not included)
Types of measurements: Temperature, voltage, current, resistance, frequency, diode and capacitance, direct strain and bridge strain
Digital Input/Output: Up to 48-bits
Analog Output: -10 V to +10 V, 20 mA
Multiplexing: Maximum 120 (1-wire), 60 (2-wire) channels
Matrix switching: Maximum 96 cross points
General purpose: Maximum 60 switches
RF multiplexing: Maximum 24 channels, 2 GHz
Simultaneous sampling: Maximum 12 channels, up to 800 kSa/s, 24-bit resolution
Interface: Graphic web, USB front/rear, LAN/LXI, GPIB (only for DAQ973A)
Keysight's Next-Gen Data Acquisition (DAQ) System
Highlights:
3-slot cardcage with 6-1/2 digit (22 bit) internal DMM scanning up to 450 channels per second with new solid-state multiplexer module
Built-in signal conditioning measures thermocouples, RTDs and thermistors, AC/DC volts and current; resistance, frequency/period, diode test and capacitance
100k readings of non-volatile memory holds data when power is removed
Hi/LO alarm limits on each channel, plus 4 TTL alarm outputs
Measures very low current ranges (1 µA DC and 100 µA AC) and higher resistance (1000 MΩ)
New auto-calibration compensates for internal drifts caused by time / temperature changes
34970A/34972A compatible program and configuration
Updated modules have improved switching speeds and accuracies
NEW DAQM900A solid state multiplexer with scan rate speed of up to 450 channels/sec
NEW DAQM909A 24-bit digitizer module providing 4 channels, simultaneous sampling, differential inputs, and sample rates up to 800 kSa/s
USB flash drive support to copy/log data in standalone applications
LAN/LXI, USB, and GPIB for easy connectivity to your PC
BenchVue DAQ application with enhanced time/frequency domain measurement included
Three-year warranty
DAQ973A adds GPIB capability to the popular DAQ970A. It is the perfect replacement and upgrade to the 34970A if you require a GPIB interface.
Sample More Signals, Faster
The DAQ973A is Keysight's next-generation data acquisition (DAQ) system with a 3-slot mainframe and your choice of 8 plug-in modules. Interface with the DAQ using optional Keysight BenchVue DAQ software, the intuitive graphical front panel with task oriented, self-guiding menus, or a web browser.
Measurements You Can Trust
Keysight took the measurement engine from their best-selling benchtop DMM and embedded it inside a 3-slot mainframe. You get the benefit of proven Keysight measurement performance, universal inputs with built-in signal conditioning, and modular flexibility, all in a low-cost, compact data acquisition package. The DAQ973A features 6-1/2 digits (22 bits) of resolution, 0.004% basic dcV accuracy, and ultra-low reading noise. Combine that with scan rates of up to 450 channels/sec, and you've got the speed and accuracy you need to get the job done right the first time.
More Channels in Less Space
Surface mount construction and a highly integrated design minimize the space required for relay drive and interface circuitry. High density on-module connectors save both board and connector space normally required by a terminal block. We use the latest technology to squeeze the most out of the remaining board space, giving you up to 40 single-ended channels in roughly the same space used by many data acquisition system terminal blocks.
Built-in Signal Conditioning to Get Your Job Done
Whether you need to measure temperature, ac/dc volts, resistance, frequency, or current, the DAQ973A can handle it. The internal autoranging DMM directly measures 12 different functions, eliminating the need for expensive external signal conditioning. And our unique design allows complete per channel configurability for maximum flexibility and quick, easy set up. It's like having an independent, high-performance DMM behind each channel.
Simplify your data gathering and analysis with Keysight BenchVue DAQ software
Keysight's BenchVue DAQ Control and Analysis app option is available for use with the DAQ973A. BenchVue gives you an intuitive interface for test configuration and real-time data display and analysis. Setup and make measurements quickly, export data or log and view real-time measurements with a variety of display types to interpret your data faster. BenchVue Software also supports many other Keysight instruments giving you a single interface for Keysight's most popular instruments.
A familiar spreadsheet environment makes it easy to configure and control your tests. And a rich set of colorful graphics provides many options for analyzing and displaying your data - all with point-and-click ease. Set up multiple graphics using strip charts, histograms, bar and scatter charts, individual channel results, and more. And of course, you can use BenchVue DAQ to easily move data to other applications for further analysis, or for inclusion in your presentations and reports.
Customize your Keysight DAQ973A with Plug-in Modules
A complete selection of plug-in modules gives you high quality measurement, switching, and control capabilities to choose from. Modules include both low-frequency and RF multiplexers, a matrix switch, a general-purpose switch, and a multifunction module that includes digital input/output, analog output, and totalizer capabilities. You can mix and match modules to get just the functionality you need right now—then change or add more channels later as your application grows.
Data Acquisition/Switch Unit Modules for the DAQ973A Data Acquisition System:
Choose between the broad functionality of the DAQM901A, the high speed scanning of the DAQM902A, or the DAQM900A solid-state module the single-ended density of the DAQ908A. All multiplexer modules employ break-before-make scanning, ensuring only one closed channel (or channel pair) at a time.
Model
Description
Speed
(Ch/Sec)
Max
Voltage
Max
Current
Bandwidth
Thermal
Offset
Comments
DAQM900A
20 ch. Multiplexer
2-wire solid-state
(4-wire selectable)
450
120 V
0.02 A
10 MHz
< 4 µV
DAQM901A
20 ch. Multiplexer
2-wire armature
(4-wire selectable)
80
300 V
1 A
10 MHz
0 µV
Built-in cold junction reference 2 additional current channels (22 total)
DAQM902A
16 ch. Reed Multiplexer
2-wire armature
(4-wire selectable)
250
300 V
50 mA
10 MHz
< 4 µV
Built-in cold junction reference
DAQM903A
20 ch Actuator/GP Switch
SPDT/form C
300 V
1 A
10 MHz
< 1 µV
DAQM904A
4 x 8 Matrix
2-wire armature
300 V
1 A
10 MHz
< 1 µV
DAQM905A
Dual 4 ch RF Mux 50 Ω
Common low
(unterminated)
60
42 V
0.7 V
2 GHz
< 4 µV
1 GHz bandwidth through
BNC-to-SMB adapter cable
DAQM907A
Multifunction Module
Two 8-bit digital I/O ports
42 V
400 mA
Open drain
26-bit event counter
42 V
100 KHz
Selectable input threshold
Two 16-bit analog outputs + two voltage/current sense
±12 V
10 mA
dc
Max 40 mA total output per frame
DAQM908A
40 ch Single-Ended Mux
1-wire armature
common low)
100
300 V
1A
10 MHz
< 1 µV
Built-in cold junction reference
No four-wire measurements
DAQM909A
4 ch Digitizer
Simultaneous Sampling
800 kSa/s
36 Vpk
24-bit resolution,
differential inputs
Unequaled Ease of Use
Simple things like on-module screw-terminal connectors, built-in thermocouple reference junctions, well-organized user documentation full of examples and hints, all add up to increased productivity, whether you use the instrument every day or only now and then.
A BenchVue DAQ software license is now with your instrument. BenchVue makes it simple to connect, control instruments, and automate test sequences.
Series: 
DAQ970A/73A Series
£3,098.40
EACH
(Inc. VAT 20%)