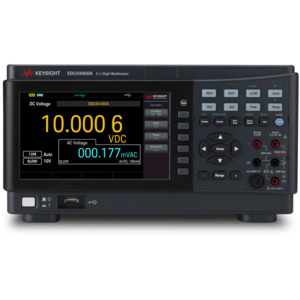 £866.40
EACH
Inc. VAT (20%)
Description

Specifications

Documents
EDU34450A Dual-Display Digital Multimeter Key Features
5-1/2 Digit signature 7-inch dual-measurement color display
Fast reading rate of up to 110 readings/s for speed-critical measurements
5,000 points logging memory for recording more data and perform analysis
Standard USB and LAN for flexible PC connectivity
USB flash drive support to copy / load configuration for repeated test setup
Includes PathWave BenchVue DMM software for remote control and data logging
Measures 11 input signals:

DC voltage
DC current
True RMS AC voltage
AC Current
Two- and four-wire resistance
Frequency
Continuity
Diode test
Temperature
Capacitance



EDU34450A Provides Industry-Grade Measurement Capabilities

The Keysight EDU34450A is a modern digital multimeter (DMM) designed for bench applications. It measures a broad range of input signals. It features 5½ digits of resolution and up to 110 readings/s measuring rate for speed-critical tests. It includes generous internal memory, allowing prolonged data logging of up to 5,000 data points.

With the EDU34450A, you get the benefits of Keysight measurement performance in a low-cost, compact package.

Combination of hard and soft keys for more intuitive front-panel operation

For easy access to the most frequently used measurement functions, the EDU34450A retains all the function keys found on a traditional DMM. The function key lights up when pressed to provide a clear indication of the parameter you are measuring. The intuitive soft keys allow more advanced configuration when the need arises. Combining these hard and soft keys allows you to quickly set up and begin your measuring tasks without a steep learning curve.

Standard connectivity to the PC

The DMM has built-in gigabit LAN and USB. The remote connectivity allows you to connect to the PathWave BenchVue DMM software for more advanced data logging and export logged data. You can also use the software to retrieve the data saved in the non-volatile memory. Software drivers are available if you prefer to write your own program, with SCPI commands to control the DMM and automate your test.

Signature 7-inch dual-measurement color display

The EDU34450A comes with a 7-inch, dual-measurement color display. With this innovation, you can view your measurement setup, instrument status, reading, and statistics all at once, without flipping through several screens.

It features a secondary display where you can view primary and secondary components of your input signal at the same time to help you better understand your device under test.

With the large display, you can set up data logging and view the logged data easily.

USB flash drive adds convenience

The EDU34450A also features a built-in USB memory port, so you can use a USB flash drive to store your DMM setup. This feature will help you install the same setup in all the DMMs in your lab.

Robust design

We know you can't afford instrument downtime caused by hardware failures and unscheduled maintenance. That's why our engineers designed reliability into the EDU34450A: a rugged enclosure; state-of-the-art, surface-mount construction throughout; reduced part counts; and rigorous and thorough testing of all aspects of the product.



£866.40
EACH
Inc. VAT (20%)