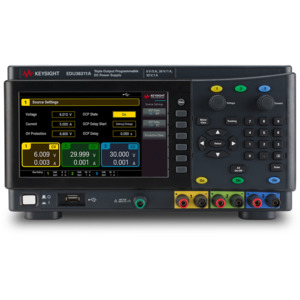 £1,024.80
EACH
Inc. VAT (20%)
Description

Specifications

Documents
EDU36311A Triple Output Bench Power Supply
Key features
Clean, reliable power

low output ripple and noise
excellent programming / readback accuracy
exceptional line / load regulation
superior over-voltage, over-current, and over-temperature protection

Convenient benchtop capabilities

independent power supplies (three) in one box
low acoustic noise

Intuitive and easy-to-use interfaces

signature 7-inch color display
distinctive color-coded channels
individual knobs for voltage and current
flexible connection using LAN (LXI) or USB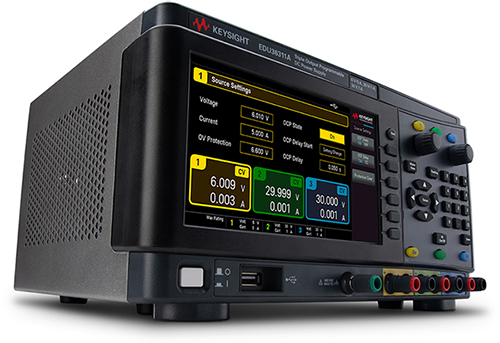 Power Your Next Insight
For more than 50 years, Keysight DC power supplies are changing how engineers prove their design, ensure product quality. The EDU36311A triple-output bench power supply is ready for your next design. With accurate voltage / current measurement and device protection layers —you can test with confidence —and power your next insight.
Get more for less
The Keysight EDU36311A triple-output DC bench power supply comes with a robust design and usability at an affordable price. Its 90 W, electrically isolated channels supply clean and reliable power. The signature 7-inch wide video graphics array (WVGA) gives you clear view, from instrument set up to the output status. You can easily control the EDU36311A triple output DC bench power supply remotely via USB or LAN. This solution includes Keysight's PathWave BenchVue power supply software for the PC.
Supply your DUT with clean, reliable power
Accurate voltage / current programming and readback capability provide excellent control of the power supply and power measurement. The low, typical mode noise specifications ensure quality power for precision circuitry applications, enabling you to power your design with confidence. Besides the 0.01% load and line regulation, the EDU36311A triple output DC bench power supply also maintains a steady output when power line and load changes occur, giving you more measurement confidence.
The EDU36311A triple output DC bench power supply includes over-voltage protection (OVP), over-current protection (OCP), and over-temperature protection (OTP) to prevent damage in an education teaching lab environment where many students have access.
Compact design
You can independently turn on / off the outputs on the DU36311A triple output DC power supply to give you three power supplies in one instrument. This feature saves bench space and maintenance cost because you can power up multiple analog / digital circuitries or devices with a single instrument.
For even more voltage or current, connect Channel 2 and Channel 3 in a series or parallel mode to double the output voltage up to 6V or current up to 2A, respectively.
Number of Outputs: 
Triple Output
Output Voltage: 
6V, 30V x 2
Output Current: 
1A x 2, 5A
Special Features: 
Basic DC Power Supply
£1,024.80
EACH
Inc. VAT (20%)