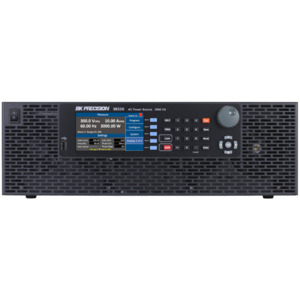 £8,466.00
EACH
Inc. VAT (20%)
Description

Specifications

Documents
9833B Features
Max Voltage: 0 - 300 V
Max Current: 0 - 30 A
Max Power: 3000 VA
9830B Series Programmable AC Power Source Overview
The 9830B Series programmable AC power sources provide high performance and low total harmonic distortion in a 3U form factor. The addition of positive and negative DC offset voltages expands the AC capabilities to operate in DC and AC+DC output coupling modes. The user can select built-in and user-defined harmonic waveforms or select from standard sine, square or clipped sine outputs.
3-Phase power can be achieved by connecting 3 units of the same model in a master and slave configuration using the optional 3-Phase sync adapters. The frequency range is adjustable from 45 to 600 Hz in 3-phase mode.
Key Features
AC, DC and AC+DC power source
3-Phase capability using multiple AC sources and 3-Phase kit (TL983P-KIT)
Low total harmonic distortion meets the IEC 61000-3-2 standard
Comprehensive measurement capabilities Vrms, Arms, Vdc, +Apk, -Apk, inrush current, frequency, power factor, apparent power, reactive power, true power, and crest factor
0.98 power factor at AC input stage
Built-in standard waveforms sine, square and clipped sine
30 built-in THD waveforms
Amplifier mode with 1.2 kHz bandwidth for generating user-defined arbitrary waveforms
Step, List and Pulse modes for generating power line disturbance (PLD) simulations
List mode supports 10 user-defined programs with up to 100 programmable steps
Generate custom harmonic waveforms on a PC and download them to the instrument's 5 non-volatile memory locations
Digital I/O port supporting external trigger, transient indication, failure status indication, remote inhibit, RS232, and external analog output level programming interface
Comprehensive protection modes OVP, OCP,OPP, OTP, fan failure, output timer and key lock
Downloadable LabVIEWTM driver and soft panel software for remote control
Standard USB (USBTMC-compliant), RS232, LAN, and GPIB remote interfaces
3 Year Warranty
Intuitive user interface
The numeric keys and rotary knob provide a convenient interface for setting output parameters quickly and precisely. All measurements and setting values are concurrently displayed on the screen including a graphical display of the output waveform. Up to 100 instrument settings can be saved and recalled to and from internal storage memory. Save screenshots and save /recall settings to the USB host interface.
Arbitrary waveform generation in amplifier mode
To further extend the capabilities of the 9830P series, custom waveforms can be applied to the analog BNC input. The custom waveform can be created using WaveXpressTM, a comprehensive stand-alone B&K Precision application, allowing users to easily generate, edit, and upload custom waveforms to an arbitrary waveform generator, which then drives the AC power source output. WaveXpressTM allows users to define waveforms by importing a csv file, define it freehand on the computer, or by importing a real-world waveform captured on a digital oscilloscope.
Applications
Pre-compliance testing
Simulate common grid faults, voltage sags, frequency, and phase disturbances, according to IEC61000-4-11/14/28/34
Electromagnetic compatibility (EMC), according to IEC61000-3-2
Evaluate transformers, TRIACs, SCRs, and passive components
CLICK HERE to view the 9830B Series Family Page
£8,466.00
EACH
Inc. VAT (20%)