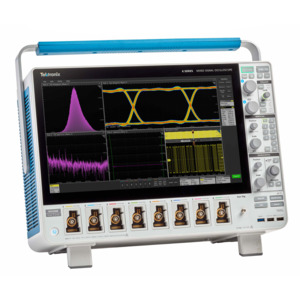 Description

Specifications

Documents
Specs:
Analog Channels: 8 FlexChannel inputs
Each FlexChannel provides:

One analog signal that can be displayed as a waveform view, a spectral view, or both simultaneously
Eight digital logic inputs with TLP058 logic probe

Digital Channels: Up to 64 (optional)
Bandwidth: 2.5 GHz
Features:
Display: 15.6-inch (396 mm) High Definition TFT color

Capacitive touchscreen (Pinch/Zoom/Swipe/Drag)
Variable font size: 12 points to 20 points

Connectivity: USB Host (7 ports), USB 3.0 Device (1 port), LAN (10/100/1000 Base-T Ethernet), Display Port, DVI-I, VGA
e*Scope: Remotely view and control the oscilloscope over a network connection through a standard web browser
Sample rate (all analog / digital channels):

Real-time: 50 GS/s (2 channels), 25 GS/s (4 channels), 12.5 GS/s (> 4 channels)
Interpolated: 2.5 TS/s

Record length (all analog / digital channels)

62.5 Mpoints standard
125, 250, 500 Mpoints, or 1 Gpoints (optional)

Waveform capture rate: >500,000 waveforms/s
Vertical resolution: 12-bit ADC / Up to 16-bits in High Res mode
Standard trigger types:

Edge, Pulse Width, Runt, Timeout, Window, Logic, Setup & Hold, Rise/Fall Time, Parallel Bus, Sequence, Visual Trigger, Video
Auxiliary Trigger ≤5 VRMS, 50 ohm, 400 MHz (Edge Trigger only)

Standard analysis:

Cursors: Waveform, V Bars, H Bars, V&H Bars
Measurements: 36
Spectrum View: Frequency-domain analysis with independent controls for frequency and time domains
FastFrame: Segmented memory acquisition mode with maximum trigger rate >5,000,000 waveforms per second
Plots: Time Trend, Histogram, Spectrum and Phase Noise
Math: Basic waveform arithmetic, FFT, and advanced equation editor
Search: Search on any trigger criteria
Jitter: TIE and Phase Noise

Optional analysis: Advanced Jitter and Eye Diagram, Mask/Limit Testing, LVDS Debug and Analysis
Optional protocol trigger, decode, and analysis
Optional serial compliance test
Optional memory analysis
Optional Arbitrary/Function Generator
Optional Digital voltmeter
Optional Trigger frequency counter
Includes:
One TPP1000 1 GHz probe per FlexChannel
Front cover with integrated accessory pouch
Power cord
Calibration certificate
One-year warranty for instrument and included probes
Get to Know the 6 Series B

With the lowest input noise and up to 10 GHz analog bandwidth, the 6 Series MSO provides the best signal fidelity for analyzing and debugging today's embedded systems with GHz clock and bus speeds. The series offers four, six and eight-channel models with a large 15.6- inch high-definition (1,920 x 1,080) display. Many applications, such as embedded systems, three-phase power electronics, automotive electronics, power supply design, and Power Integrity require the observation of more than four analog signals to verify and characterize device performance and to debug challenging system issues. The additional analog channels can pay for themselves quickly by enabling you to keep current and future projects on schedule.

Gain Flexibility and Configurability

FlexChannel technology enables each channel input to be used as a single analog channel, eight digital logic inputs (with the TLP058 logic probe), or simultaneous analog and spectrum views with independent acquisition controls for each domain. Early model MSOs required digital channels to have lower sample rates or shorter record lengths than analog channels. The 6 Series' new level of integration of digital channels allows for sharing the same high sample rate (up to 50 GS/s), and long record length (up to 1 Gpoints) as analog channels.

Unprecedented Signal Viewing Capability

Stacked Display Mode – Previously, overlaid waveforms in the same graticule forced difficult tradeoffs but the new Stacked display eliminates this. It automatically adds and removes additional horizontal waveform 'slices' (additional graticules) as waveforms are created and removed. Each slice represents the full ADC range for the waveform. All waveforms are visually separated from each other while still using the full ADC range. Channels can easily be reordered by dragging and dropping the channel and waveform badges in the Settings bar of the display. Groups of channels can also be overlaid within a slice to simplify visual comparison of signals.

The Settings Bar - Waveform and scope operating parameters are displayed in the Settings Bar on the bottom of the display. Get immediate access to: Turn on channels, add math waveforms, reference waveforms, bus waveforms or enable the Arbitrary/Function generator (optional) or digital voltmeter (optional).

The Results Bar – It includes immediate, one-tap access to the most common analytical tools such as cursors, measurements, searches, measurement and bus decode results tables, plots, and notes. DVM, measurement and search results badges are displayed in the Results Bar without sacrificing any waveform viewing area.

MS Windows Operating System – Or not

The 6 Series MSO comes with a standard removable SSD that contains a closed embedded OS that will boot as a dedicated scope with no ability to run or install other programs. An optional SSD with Windows 10 operating system is available that will boot to an open Windows 10 configuration.

Vertical Resolution And Low Noise

The 6 Series MSO delivers the performance necessary to minimize the effects of unwanted noise when capturing high-amplitude signals while seeing smaller signal details. Its High Res mode applies a hardware-based unique Finite Impulse Response (FIR) filter based on the selected sample rate. The FIR filter maintains the maximum bandwidth possible for that sample rate while preventing aliasing and removing noise from the oscilloscope amplifiers and ADC above the usable bandwidth for the selected sample rate. High Res mode always provides at least 12 bits of vertical resolution and extends all the way to 16 bits of vertical resolution at ≤ 625 MS/s sample rates.

In addition, a new TEK061 front end amplifier (ASIC) sets a new standard for low-noise acquisition providing the best signal fidelity to capture small signals with high resolution. It enables breakthrough noise performance at the highest sensitivity settings. A 50 GS/s low noise interleave sample rate on up to two channels reduces noise by almost 3 dB at higher volts/div settings.

Triggering

Discovering a device fault is only the first step. Next, you must capture the event of interest to identify the root cause. The 6 Series MSO provides a complete set of advanced triggers. With up to a 1 Gpoint record length, you can capture many events of interest, even thousands of serial packets in a single acquisition.

Find a signal of interest quickly with Visual Trigger which scans through all waveform acquisitions and compares them to on-screen areas (geometric shapes). An unlimited number of areas can be created, and a variety of shapes (triangles, rectangles, hexagons, or trapezoids) can be used to specify the desired trigger behavior. Visual Trigger can save hours of capturing and manually searching through acquisitions. It even works across multiple channels, extending its usefulness to complex system troubleshooting and debug tasks.

Basic Waveform Analysis

The 6 Series MSO offers a comprehensive set of standard analysis tools including: Waveform- and screen-based cursors, 36 automated measurements, Basic waveform math, Basic FFT analysis, Advanced waveform math, Spectrum View frequency domain analysis, FastFrame Segmented Memory.

Measurement results tables provide comprehensive statistical views of measurement results with statistics across both the current acquisition and all acquisitions.

Navigation and Search

The 6 Series MSO offers the industry's most comprehensive search and waveform navigation with its innovative Wave Inspector controls. These controls speed panning and zooming through your record. With a unique force-feedback system, you can move from one end of your record to the other in just seconds.



Display Type: 
15.6 LCD TFT Color Touch