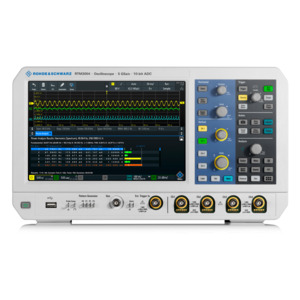 Description

Specifications

Documents
RTM3004 Oscilloscope, 4/16 Channel, Package
Benefit from the following:

Options included upfront at point of purchase
No need to configure, it is taken care of for you
Maximum bench performance and maximum savings
Includes:
RTM-B245 500 MHz Bandwidth
RTM-B1 Mixed Signal Option (MSO) adds 16 digital channels
RTM-PK1US Application Bundle:

RTM-K1 - I²C/SPI serial triggering and decoding
RTM-K2 - UART/RS-232/RS-422/RS-485 serial triggering and decoding
RTM-K3 - CAN/LIN serial triggering and decoding
RTM-K5 - Audio (I2S, LJ, RJ, TDM) triggering and decoding
RTM-K6 - MIL-STD-1553 serial triggering and decoding
RTM-K7 - ARINC429 serial triggering and decoding
RTM-K15 - History and segmented memory
RTM-K31 - Power analysis
RTM-K36 - Frequency response analysis (Bode plot)
RTM-K37 - Spectrum analysis and spectrogram
RTM-B6 - Arbitrary waveform and 4-bit pattern generator
Features:
10-bit ADC
80 Msample standard memory
10.1-inch capacitive touchscreen
Sample rate 2.5 Gs/s channel, 5 Gs/s interleaved
80 Mpts Max. memory depth
500 µV/div Min. input sensitivity
200,0000 waveforms/s in fast segmentated memory mode
QuickMeas, mask tests, FFT, math, cursors and automatic measurements
R&S probe interface standard
Connectivity: LAN, USB host and USB device ports
The R&S RTM3000 series provides users with more than just an oscilloscope. It includes a logic analyzer, protocol analyzer, waveform and pattern generator and digital voltmeter. Dedicated operating modes for frequency analysis, mask tests and long data acquisitions are integrated. You can quickly and efficiently debug all kinds of electronic systems – and it satisfies the all-important rule of investment protection at a very attractive price.
Alternate Product Number: 
1335.8794P94
Special Features: 
AWG, MSO
Interface: 
I2C, SPI, UART, RS-232/422/485, I2S LJ/RJ/TDM, MIL-1553, ARINC 429, CAN, LIN