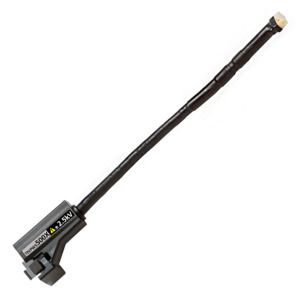 £1,344.00
EACH
(Inc. VAT 20%)
Description

Specifications

Documents
TIVPWS500X Probe Sensor Tip
3300 Vpk
<3% DC Gain Accuracy (Typical)
±2.5 kV Linear Input Voltage Range
60 kVpeak Common Mode Voltage Range
160 dB at DC
System Noise: ±10 V range: 215 mV rms ; ±160 V range: 730 mV rms ; ±2500 V range: 24 V rms
Probe head: 0.363 kg (0.8 lbs)
Sensor tip cable length: 20.03 cm (7.886in)
0.200in Spaced Wide Square Pin Connector
Note: This product is not rated for CAT II, III or IV
Tektronix's 2nd Generation isolated measurement TIVP offers a compact form factor, enhanced accuracy, sensitivity and performance on the latest Tektronix oscilloscopes while providing the same unbeatable CMRR.
The TIVP Probes are optimized for and exclusively compatible with the latest 4, 5 and 6 Series Tektronix oscilloscopes. The probe will not function on other Tektronix oscilloscopes.
Tektronix IsoVu Gen 2 TIVP Isolated Probe Family Page
IsoVu probe technology delivers accurate differential measurements up to ±2500 V on reference voltages slewing ±60 kV at 100 V/ns or faster. With the IsoVu Generation 2 design, you get all the benefits of IsoVu technology at 1/5 of the size of first generation probes.
With versatile MMCX connectors and an unmatched combination of bandwidth, dynamic range, and common mode rejection, IsoVu Gen 2 probes are setting new standards for isolated probe technology and enabling wide bandgap power designs using SiC and GaN.
Benefits of IsoVu Probes
IsoVu technology uses power-over-fiber and an optical analog signal path for complete galvanic isolation between the measurement system and your DUT. By allowing the probe to float independently at the common mode voltage, isolation provides important advantages.
160 dB (100 million to 1) CMRR at DC
Up to 120 dB (1 million to 1) CMRR at 100 MHz
Up to 80 dB (10,000 to 1) CMRR at 1 GHz
±60 kV Common Mode Voltage range
Up to ±2500 V differential input Voltage range
Up to ±2500 V offset range
High Voltage and High Bandwidth
With traditional differential probes you had to choose between high bandwidth or high voltage levels. IsoVu probes, with their shielded coaxial cable and isolation, provide high bandwidth and a differential voltage range of ±2500 V. IsoVu Gen 2 offers bandwidths of 200 MHz, 500 MHz, and 1 GHz to fit your budget and performance needs.
High Performance and Convenient Connections
Tektronix TIVP Series Isolated Differential Scope Probes
IsoVu probe tips have a range of connections and accessories that offer high performance and accessibility. The probes can connect directly to MMCX connectors, which are inexpensive and widely-available. This makes for stable, hands-free test points and offer high bandwidth and common mode rejection. The solid metal body shields the center conductor and minimizes ground loop area for the lowest interference possible.
Other accessories are available to adapt the probe tips to a wide range of connections. Additional 0.100in and 0.200in spaced square-pin tips are available for applications that require greater than ±250V differential voltage. When not using a tip, the sensor head has 1 Megohm and 50 Ohms switchable termination at the probe's SMA connector. This feature effectively adds an isolated channel to any compatible oscilloscope.
Floating Measurements in Power Converter and Motor Drive Designs
Making high-side measurements in half-bridge power converters is challenging because the source or collector to which the measurements are referenced is slewing rapidly up and down. Wide bandgap devices like SiC and GaN FETs are even harder to measure because they can switch high voltages in a few nanoseconds. Noise from this rapidly changing common mode voltage leaks into the differential measurements and hides details on VGS and VDS. IsoVu probes have unmatched common mode rejection at full bandwidth that lets you see signal details, often for the first time.
Applications
Half/Full bridge designs using SiC or GaN, FETs, or IGBTs
Floating measurements
Power converter design
Power device evaluation
Switching power supply design
Inverter design
Motor drive design
Electronic ballast design
EMI and ESD troubleshooting
Current shunt measurements
£1,344.00
EACH
(Inc. VAT 20%)