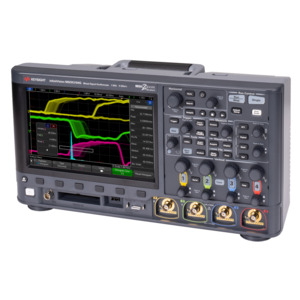 £8,769.60
EACH
Inc. VAT (20%)
Description

Specifications

Documents
MSOX3024G InfiniiVision Mixed Signal Oscilloscope
The InfiniiVision 3000G X-Series oscilloscopes offer high-end technology in a small form factor. With an intuitive touch user-interface, industry-leading waveform update rate, zone trigger, and 8 new standard features, you can capture and isolate elusive glitches and anomalies not possible on other oscilloscopes.
Specifications:
200MHz
4 Analog Channels + 16 Digital Channels
Up to 5 GSA/s Max Sample Rate
Up to 4M points Memory Depth
Update Rate Up to 1,000,000 wvfm/s
8.5 inch Capacitive Touch Display
Zone Touch Trigger
3000G Series Standard Features:
Waveform and Measurement Histograms
Built-in 20 MHz Function/Arbitrary Waveform Generator
12C, SPI, UART, 12S, and USB PD Trigger and Decode
Mask Limit and Measurement Limit Testing
Standard 8-Digit Counter and Totalizer
Frequency Response Analysis (Bode plots)
Enhanced HDTV Video Analysis
USB host, USB device, LAN, VGA Connectivity
Includes: Passive probes N2843A, 500 MHz, 10:1 attenuation, 1 Megohm, 11 pF (1 per channel). Certificate of calibration and localized power cord.
Industry-Focused Optional Software Applications:
Aerospace/Defense: Enable protocol trigger and decode for MIL-STYD 1553 and ARING 429 series buses (Model D3000AERB)
Automotive: Enables decode for most common auto serial buses for power train and body control and monitoring (Model D3000AUTB)
Power: Enable automated power supply characterization measurements (Model D3000USBB)
USB: Extended capability for USB 2.0 triggering and analysis (Model D3000PWRB)
Ultimate Bundle: Enable all available software options (Model D3000BDLB)
Touch, Discover, Solve - Your Way
The 3000G X-Series offers 3 ways to access menus/features: touch GUI for those using a tablet or smart phone touch interfaces, front panel buttons and knobs for traditional users, and a pull down menu for users who prefer Windows-like operations. The 3000G X-Series also offers a "touch off" button as well as USB mouse and keyboard support.
In addition to the benefits of touch, built-in USB host and USB device ports, as well as a LAN port, make PC connectivity easy. Save time with the ability to export measurement data to Excel, Word and MATLAB in three clicks. Monitor and control your 3000G X-Series oscilloscope with a mobile device from anywhere. Simplify your testing with BenchVue software.
Fast Update Rate and Zone Triggering
With an industry-leading update rate of over one million waveforms per second, the InfiniiVision 3000G X-Series oscilloscope gives you the highest probability of capturing random and infrequent events. Powered by MegaZoom IV smart memory technology, it has the uncompromised ability to find the most difficult problems in your design under any conditions.
Analyze Waveform Data Quickly
The new 3000G X-Series uses hardware-based serial protocol decoding therefore enhancing the probability of capturing infrequent serial communication errors. It can decode two serial buses simultaneously with the use of segmented memory and Zone triggering and show the captured data in a time-interleaved "lister" display. The 3000G X-Series has the most decode/trigger capabilities in this class of instrument.
7-in-1 Instrument Integration Provides Synergistic Measurements
In addition to the class leading oscilloscope and powerful serial protocol analysis capabilities, the InfiniiVision 3000G X-Series offers five additional instrument capabilities not always found in this class of oscilloscope.
Integrated on MSO models – 16 optional, integrated, and upgradable digital channels
Frequency response analysis (Bode plots, standard)
Integrated WaveGen: Built-in 20 MHz function/arbitrary waveform generator
Integrated DVM: Standard 3-digit digital voltmeter
Integrated frequency measurements: Standard 8-digit counter and totalizer
Display Type: 
8.5 Capacitive Touch
Special Features: 
Function/Arbitrary Waveform Generator
£8,769.60
EACH
Inc. VAT (20%)