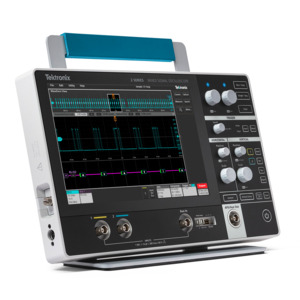 £1,848.00
EACH
(Inc. VAT 20%)
Description

Specifications

Documents
2 Series MSO22 - Upgradable Base Model
STEP 1: Add 70 MHz Base Model to Cart
STEP 2: Want a Bandwidth upgrade, choose one in Accessories and Add to Cart
Questions or need a quote please contact sales.
MSO22 2-BW-70 Base Model MSO Specs:
70MHz Bandwidth
2 Analog Channels
16 Digital Channels (Optional)
2.5GS/s sample rate half channel
10Mpts record length
Or, Pick An Upgrade:
Buy now with installation or buy later, all bandwidth upgrades can be performed in the field by purchasing and installing a license.
Supported Model

Bandwidth option

Bandwidth before upgrade

Bandwidth after upgrade

MSO22

SUP2-BW70T100-2

70 MHz

100 MHz

SUP2-BW70T200-2

70 MHz

200 MHz

SUP2-BW70T350-2

70 MHz

350 MHz

SUP2-BW70T500-2

70 MHz

500 MHz
The 2 Series MSO joins the Tektronix family of award-winning next generation oscilloscopes. Its sleek, 1.5-inch compact appearance, touch-enabled screen and upgradable features makes the 2 Series the go-to oscilloscope for electronic debug and test, no matter where you work.
Key Performance Specifications:
Sample Rate: 2.5 GS/s Half channels; 1.25 GS/s All channels
Record length: 10 M points per channel
Vertical Resolution: 8 bits ADC
Standard trigger types: Edge, pulse width, runt, timeout, logic, setup & hold, rise/ fall time, and parallel bus
Standard analysis: Cursors, Measurements, Plots, Math, Search
Connectivity: USB 2.0 Host; USB 2.0 Device (2 ports) ; LAN (10/100 MB/s Base-T Ethernet)
Display: 10.1-inch TFT color Capacitive (multi-touch) touchscreen
VESA mount: 100 mm x 100 mm VESA interface
Security: Kensington lock
Remotely view/control over a network connection through remote Virtual Network Computing (VNC)
Includes: One TPP0200 200 MHz, 10x voltage probe per channel; Calibration certificate documenting traceability to National Metrology Institute(s) and ISO9001/ISO17025 quality system registration; Instrument stand; Installation and safety manual; External power supply
Optional Features:
16 Digital Channels (MSO)
Serial trigger, decode and analysis
50MHz Arbitrary function generator
Collaborative tools
Alternate Product Number: 
MSO22 2-BW-70, MSO22 2-BW-100, MSO22 2-BW-200, MSO22 2-BW-350, MSO22 2-BW-500, MSO22
Display Type: 
10.1 TFT Color Touch
Digital Channels: 
Upgrade Required
£1,848.00
EACH
(Inc. VAT 20%)