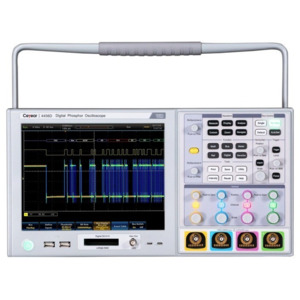 Description

Specifications

Documents
The Ceyear 4456D Digital Phosphor Oscilloscope integrates functionalities of a digital oscilloscope, a logic analyser, a function generator, a protocol analyser and a digital voltmeter and has many functions including waveform auto-set, automatic measurement of waveform parameter, cursor measurement, histograms measurement, arithmetic operation, FFT analysis, serial protocol trigger and analysis, limit and mask test, power measurement and analysis, waveform record and replay, mixed signal analysis, arbitrarily function generator and so on.

Ceyear 4456D Functions & Features
Five in One
Any Acquire Phosphor
Abundant optional sensors
10.1-inch screen
Compact, Light, Portable
Oscilloscope
Oscilloscope has 500 MHz bandwidth, 5GSa/s sample rate, up to 500Mpts/CH memory depth, up to 1000,000 wfms/s Waveform capture rates. The originally developed Any Acquire Phosphor technique provides brand-new user experiences of an oscilloscope for users.

Logic Analyser (optional)
The logic analyser provides 16 logic channels, 2.5GSa/s sample rate and 500Mpts memory depth and makes it possible to analysis mixed signal easily.

Function Generator (optional)
The function generator can output more than 10 types of pre-defined waveforms with the bandwidth up to 25 MHz. The arbitrary waveform generator provides 16k points outputs and you can quickly generate signals you want through drawing the output waveform on the capacitance touch screen.

Protocol Analyser (optional)
The protocol analyser supports auto trigger, decoding and analysis of multiple protocols, like I2C, SPI, CAN, LIN, FlexRay, RS232, USB, Audio, and 1553. Serial protocol test solutions are available for embedded, vehicle, computer, audio and aviation etc.

Probes
4456D supports passive voltage probes, high voltage single-ended probes, high voltage differential probes and current probes etc, which meets your various test requirements.