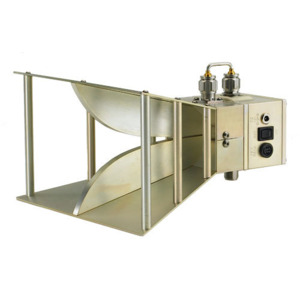 Description

Specifications

Documents
The AHA-118 is a broadband, linearly polarised Double Ridge Horn Antenna with built-in, 40 dB gain, low noise preamplifier. This active antenna operates over the frequency range of 700 MHz to 18 GHz, with excellent efficiency from 1 GHz to 18 GHz.

This measurement system arrangement, with preamplifier directly behind the antenna, rather than next to (or embedded into) the remotely located test receiver, increases measurement sensitivity, as well as accuracy, by amplifying the received signals prior to being significantly attenuated by the long cable run between the test site and test equipment area.
Construction
The AHA-118 is designed to be extremely durable, making it an ideal choice for daily use in laboratory environments. The antenna is constructed using a heavy guage, high grade aluminium with a corrosion resistant coating. It is fitted with high quality, precision N-type coaxial connectors at the antenna terminals, as well as the preamplifier input/output terminals.
Application
The AHA-118 Active Double Ridge Horn Antenna is suitable for use in the following capacities:
as an EMI test antenna for qualification-level regulatory compliance measurements (FCC, CE, MIL-STD-461, RTCA DO-160, FDA, SAE (automotive), etc.
as a transmitting antenna (preamp bypassed) for establishing radiated RF fields for product immunity tests, with up to 300 Watts input power
as a "substitution antenna" (preamp bypassed) for determining the Effective Radiated Power (ERP) and/or Effective Isotropic Radiated Power (EIRP) of intentional radiators
test site comparisons, shielding effectiveness tests of large enclosures, field monitoring, site surveys, and other general purposes
Flexibility
The AHA-118 can easily be configured by the operator on the fly, as necessary, to meet the specific requirements for the task at hand. Where system sensitivity (large signal to noise ratio) is not the primary concern; attenuation, notch or band pass filters can be inserted between the antenna and preamplifier, in order to facilitate measurements in the presence of high amplitude signals. Or, the preamplifier can be bypassed altogether, in which case the antenna can be used for receiving or transmitting purposes.