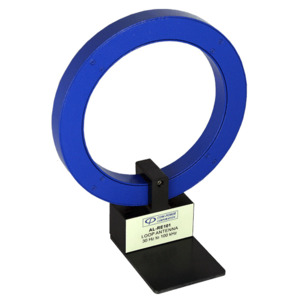 Description

Specifications

Documents
The AL-RE101 is a receiving loop antenna used for MilStd 461, RE101 testing to measure the magnetic field intensity generated by the Equipment Under Test (EUT). Its construction consists of a 13.3 cm diameter, 36-turn, electrostatically shielded coil of 7-strand, 41 gauge Litz wire. The base of the antenna is constructed from durable nylon, which is mounted over a plexi-glass plate. For convenience, the plate protrudes outward from the front of the antenna to provide the required 7 cm spacing between the centre of the loop and the EUT, as shown in the diagram to the left.
The antenna output port is fitted with a high quality, female BNC connector for connection to the measuring instrument. The electrostatic shield of the antenna is powder coated for additional durability.
Application
The AL-RE101 Loop Antenna is specifically designed for tests according to MIL-STD-461, RE101, radiated emissions, magnetic field. During this test, radiated emissions from the Equipment Under Test (EUT) are measured from equipment and subsystem enclosures, including electrical cable interfaces, to verify that the magnetic field emissions from the EUT and its associated electrical interfaces do not exceed the specified requirements.
The antenna is placed at a distance of 7 cm from the EUT face and electrical interface connector to be measured. The plane of the loop is oriented parallel to the EUT faces and parallel to the axis of the connectors.