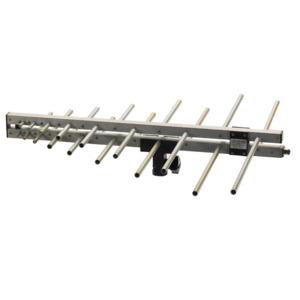 Description

Specifications

Documents
The ALP-100 is a broadband, linearly polarised Log Periodic Dipole Array (LPDA) Antenna, operating over the frequency range of 200 MHz to 1 GHz. This antenna is geared specifically for high power applications up to 500 watts.

Construction
The ALP-100 is designed to be extremely durable, making it an ideal choice for daily use in laboratory environments, both indoors and outdoors, and even under continuous exposure to extreme weather conditions. The antenna is constructed using a heavy gauge, high grade, corrosion resistant aluminium.
Application
The ALP-100 Power Log Periodic Antenna is primarily intended for use as a transmitting antenna for establishing radiated RF fields for product immunity tests, and is capable of handling power levels up to 500 Watts
The ALP-100 is also suitable for use as an EMI test antenna for qualification-level regulatory compliance measurements (FCC, CE, RTCA DO-160, FDA, SAE Automotive, etc.). In addition, a pair of ALP-100 Log Periodic Antennas can be used in lieu of dipole antennas for Normalised Site Attenuation (NSA) calibrations of Open Area Test Sites (OATS) or Semi-Anechoic Chambers (SAC); thereby avoiding the time-consuming process of tuning the dipole element lengths at each discrete frequency.
Notwithstanding the above applications, the ALP100 can also be used for test site comparisons, shielding effectiveness tests of large enclosures, field monitoring, site surveys and other general purposes.