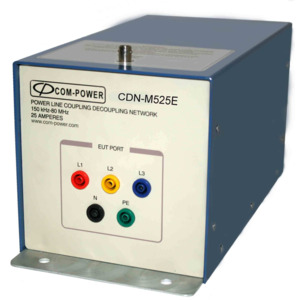 Description

Specifications

Documents
Each CDN is optionally available with two (2) Common Mode (or shorting) Adaptors. These adaptors are used to short circuit each of the CDN power conductors at the EUT and Auxiliary Equipment (AE) port during calibration of test levels, and also during measurement of the CDN electrical performance parameters (impedance, phase, voltage division factor, isolation, etc.).

All Com-Power CDNs can be purchased separately or as part of a CIS-series conducted immunity test system. These test systems include an ACS-series power amplifier, power attenuators, directional coupler, 150Ω to 50Ω adaptors, coaxial test cables and optional calibration and test software.
Application
M-series CDNs provide a means by which common mode RF energy can be coupled onto the EUT power lines while maintaining the required impedance over the ground plane, without interruption of input power. Common mode decoupling is also employed to minimise interference to the power source and/or auxiliary equipment. A basic diagram of the CDN circuit is illustrated below.
The frequency range of the testis from 150 kHz up to either 80 or 230 MHz. The test level is typically 1, 3 or 10 Vrms with the test signal 80%, AM modulated with a 1 kHz tone. A typical test setup is illustrated below.