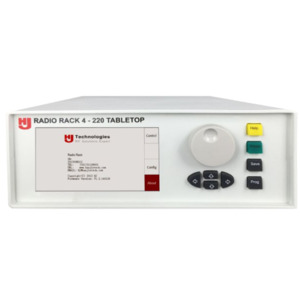 Description

Specifications

Documents
Radio Rack 4 - 220 Tabletop is suitable for lab testing by controlling 4 independent bidirectional RF channels. Users can easily simulate path loss on each channel or simulate mobility scenarios between the sectors with usage of power combiners. The instrument supports all the major wireless technologies including CDMA/EVDO/GSM/UMTS/HSPA/LTE/WiMAX.
Features:
Each individual attenuator can be controlled manually from the front panel, by Radio Rack's or customer own applications through RS232, or Ethernet with API commands.

The system supports sweeping range between 0 - 127 dB attenuation values for each individual channel.
Frequency Range: 
700 MHz - 4 GHz / 6 GHz (Option W600)
Brand Name: 
HJ Technologies