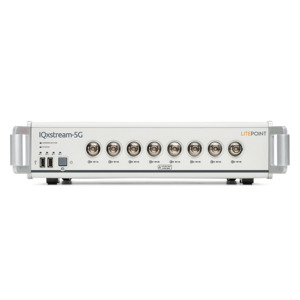 Description

Specifications
Sub-6 GHz Cellular Test System
With 200 MHz of continuous bandwidth, the IQxstream-5G provides a future-proof test solution investment as the 3GPP NR standards evolve and new sub-6 GHz spectrum allocations for 5G are defined worldwide (for example, new spectrum in the 3.3 to 4.9 GHz range). In addition, 200 MHz of continuous bandwidth allows for much faster throughput when performing 5G NR carrier aggregation (CA) signal analysis.
The IQxstream-5G supports both TDD and FDD cellular signals for legacy 2G/3G and mainstream 4G LTE, LAA, and 5G 3GPP NR technologies. In addition, the IQxstream-5G can be software-upgraded to support other wireless technologies, including Wi-Fi (802.11a/ac/ah/ax/b/g/n/p), Bluetooth, Zigbee, NB-IoT and the popular navigational technologies.
The IQxstream-5G supports up to eight bi-directional VSA and VSG ports, thus making it ideal for multi-DUT testing of user equipment (UE) applications like 5G NR smartphones and tablets. All eight ports are factory calibrated, which enables a very fast set up that takes minutes, rather than hours, as no external switches or combiners are required.
Technology Options
5G Sub-6 GHz
Wi-Fi, 802.11ax
Wi-Fi, 802.11ac
Wi-Fi, 802.11a/b/g/j/n/p
Wi-Fi, 802.11af
Wi-Fi, 802.11ah
Bluetooth, Classic (1.x, 2.x, 3.0), Low Energy (4.0, 4.1, 4.2) and Bluetooth 5
LTE TDD / FDD
DECT
LPWAN, Sigfox / LoRa
Zigbee, Z-Wave and Wi-SUN
GSM / EDGE
CDMA / CDMA2000
TD-SDCMA
W-CDMA HSPA / HSPA+
LTE
LTE IoT UE categories Cat 1, Cat 0 (Cat M1) and Cat NB1 (NB-IoT)
LTE Small Cell (Femtocell, Picocell)
Navigation: GPS, GLONASS, Compass and Galileo