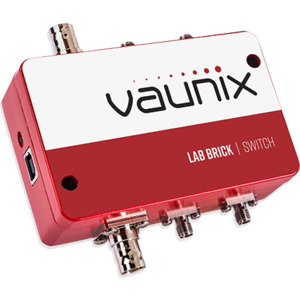 Description

Specifications

Documents
USB Programmable SPDT and SP4T Solid-state RF and Microwave Switches
Vaunix LSW Series Lab Brick RF and Microwave Programmable Switches offer high isolation, solid-state switching for wireless testing in both single pole double throw (SPDT) and single pole four throw (SP4T) configurations. These low-cost, portable units are powered and controlled via a USB port connection to any PC or powered hub. No additional DC supply voltage is required. Lab Brick RF and Microwave Switches are easily programmed directly from the included GUI and through the external control inputs. Lab Brick Switch API DLL and LabVIEW compatible drivers are also available for custom programming applications.
Technology
Vaunix LSW Series Lab Brick RF and Microwave Switches are designed with advanced solid-state technology. LSW Series Switches offer 10 Watt power handling capability, and are easily programmable for ATE applications. These switches can operate on multiple devices directly from a PC or self-powered USB hub. In addition, they are programmable by means of LabVIEW software drivers from National Instruments.
Packaging and Compliance
Lab Brick RF and Microwave Switches measure 3.86 x 2.25 x 1.35 in. (98 x 64 x 34 mm) and weigh less than 0.5 lb. (0.23 kg). They comply with international requirements for electromagnetic-compatibility (EMC) emissions and immunity for Class A ISM devices to ensure that they don't interfere with other ISM-band equipment. They are also RoHS compliant.