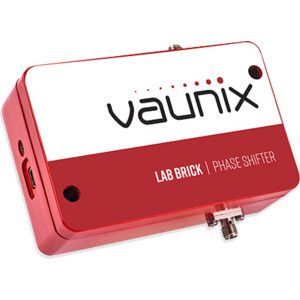 Description

Specifications

Documents
Portable and Programmable RF and Microwave Digital Phase Shifters
Vaunix Lab Brick LPS Series RF and microwave portable and programmable digital phase shifters provide excellent phase accuracy while offering one-degree phase resolution. These precision, hand-held, USB powered, wireless RF Phase Shifters are ideal for engineering and production test laboratories, field testing, and integration into high speed automatic-test-equipment (ATE) systems. They're the best low cost alternative to voltage variable phase shifters. The phase can be set from the GUI, configured from an uploaded phase profile, or programmed using the provided API DLL. The GUI software can track and control several connected RF phase shifters, simplifying multiple device test setups. Each device stores settings in internal memory, allowing it to power up in a specific phase state.
Technology
The Lab Brick LPS Series of USB programmable RF and microwave digital phase shifters are USB powered and controlled, and offer calibrated performance for optimal accuracy. They have a phase adjustment step size of one degree to 360 degrees with one degree increments. Additionally, these portable RF phase shifters include a easy to install and use GUI and phase profile upload capability to Windows 7, 8, XP and 2000.
Packaging and Compliance
Lab Brick Digital Phase Shifters are housed in rugged aluminium enclosures measuring 3.86 x 2.52 x 0.67 in. (98 x 64 x 17 mm) and weighing just under 0.5 lb. (0.23 kg) All Lab Brick test instruments are RoHS compliant.