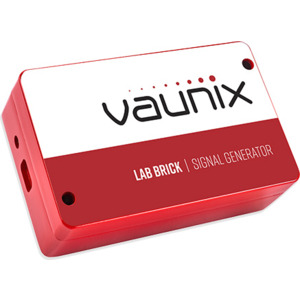 Description

Specifications

Documents
RF and Microwave USB Programmable Digital Signal Generators
Vaunix LSG and LMS Series Lab Brick RF and Microwave USB Programmable Digital Signal Generators offer high output levels and excellent spectral purity through 20 GHz. They can be operated in both continuous-wave (CW) and swept-frequency modes.

These low cost, portable, USB powered, hand-held wireless signal synthesizers and programmable synthesizers are ideal for engineering and production test laboratories, field testing, and integration into high speed automatic-test-equipment (ATE) systems. They've been proven effective as portable local oscillators (LO) sources, and in several microwave and wireless testing applications. Vaunix LSG series Signal Generators can be configured to linearly sweep through a range of frequencies. And the advanced LMS series offers low noise, fast 100 ms switching time, 100 Hz frequency resolution, phase-continuous frequency sweep (LFM), and high-speed internal and external pulse modulation.
Technology
Vaunix LSG and LMS series Lab Brick USB programmable RF and Microwave Digital Signal Generators are designed with advanced solid-state technology. LMS Series Signal Generators In non-USB applications, Lab Brick signal generators can operate with battery power or a remote power supply. They can be used with any PC or laptop computer with a USB 2.0 port (or powered USB hub) and Microsoft Windows operating system. In addition, they are programmable by means of LabVIEW software drivers from National Instruments.
Packaging and Compliance
Lab Brick RF and microwave programmable signal generators measure 4.90 x 3.14 x 1.59 in. (124 x 80 x 40 mm) and weigh less than 1 lb. (0.45 kg). They comply with international requirements for electromagnetic-compatibility (EMC) emissions and immunity for Class A ISM devices to ensure that they don't interfere with other ISM-band equipment. They are also RoHS compliant.