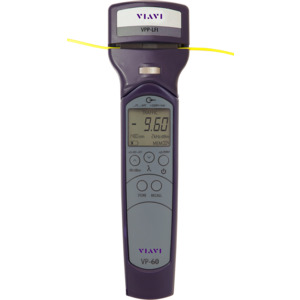 Description

Specifications

Documents
The FI-60 also converts to an Optical Power Meter (OPM), providing twice the value for your investment and reducing the number of tools carried on the job.
FI-60 Live Fiber Identifier Highlights
Avoid network downtime and damage with repeatable SafeChekTM easy-pull trigger system.
Get the job done faster with a single LFI head that is compatible with multiple cable diameters (250μm to 3mm jacketed fibers).
Increase reliability and avoid false readings with integrated ambient light shield.
Have twice the tool at half the price! The FI-60 LFI easily converts to a full-function OPM that stores, recalls, and exports results to a PC via USB.
FI-60 Live Fiber Identifier Applications
Easily detect the optical signal without having to disconnect the fiber.
Installation, service, maintenance, or troubleshooting
Integrate with FiberChek2 for combined inspection and test reporting.
FI-60 Live Fiber Identifier Key Features
SafeChek easy-pull trigger system ensures repeatable engagement with fiber cable
LFI head accepts multiple cable diameters (250μm to 3mm jacketed fibers
Durable metal input adapters (2.5 and 1.25mm) for OPM
Measure both absolute (dBm) and relative (dB) power
Store and recall up to 100 OPM readings