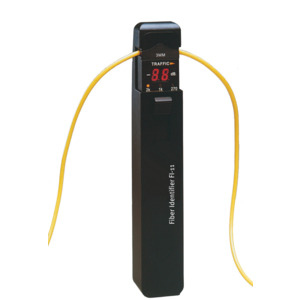 Description

Specifications

Documents
By utilising local detection technology (non-destructive macro-bend detection), they eliminate the need to open the fiber at the splice point for identification. This, in turn, eliminates the probability of interrupting service.
FI-10/-11 Highlights
Operates from 850-1700 nm.
Compatible with most AT&T and Corning optical fiber.
Uses non-destructive, macro-bending technology.
Detection sensitivity of -40 dBm.
Bi-directional traffic indication.
FI-10/-11 Applications
Live fiber identification.
Core power measurement and display on a 2-digit LED display (FI-11).
270 Hz, 1000 Hz, and 2000 Hz modulated tones detection.
Relative zero power reading (FI-11).
Power loss through a splice or a connector measurement (FI-11).
FI-10/-11 Key Features
High-intensity LED indication of active signal transmission.
Interchangeable adapter heads for jacketed, coated or ribbon fiber.
Low battery indication.
Operates using one hand.