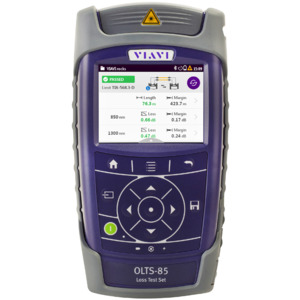 Description

Specifications

Documents
Key Benefits of the OLTS-85/85P
Certify installations faster, correctly, and on time-the first time
Test to industry standards
Eliminate guesswork with pass/fail results
Optimise technician efficiency
OLTS-85/85P Applications
Measuring length and optical loss (two fibers, two wavelengths)
Ensuring correct polarity
Inspecting fiber end faces-both patch cord and bulkhead. Learn more
Key Features of the OLTS-85/85P
Comprehensive tier 1 fiber testing to TIA/ISO/IEC standards
Dedicated multimode, single-mode, and quad versions
Fiber end-face inspection with automated pass/fail analysis on both local and remote devices.
Integrated saving of both local and remote results on the local device
Encircled flux compliant
Instant on from sleep mode
Easily-generated fiber certification reports
3.5" color touch screen
Direct reports via FiberChekPRO™ reporting software
All-day battery life
What is an OLTS or Optical Loss Test Set?
An Optical Loss Test Set is a hand held field instrument used to perform specific tests for a fiber optic link or channel. These tests include measuring the length and optical loss, and checking the polarity of the installed fiber optic links.
Why should I use an OLTS?
While many use an OLTS for basic troubleshooting tests of optical links and channels, the primary use is during the installation of fiber optic networks to certify the installation according to global industry standards (including TIA 568.3, ISO 11801, and ISO 14763-3). The required test information from these standards include measuring the length, optical loss, and polarity of the installed fiber optic links. Performing these tests are required by the customer and are referred to as "Basic Certification" or "Tier-1 Fiber Certification". To learn more visit: Tier 1 (Basic) Fiber Optic Certification.