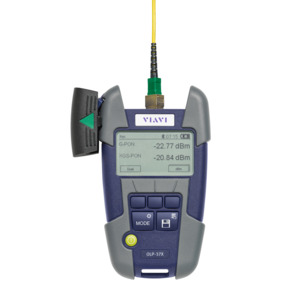 Description

Specifications

Documents
The VIAVI OLP-37XV2 is a wavelength selective Passive Optical Network (PON) power meter for fast, simultaneous measurement of both G/E-PON and XGS-PON/10G-EPON downstream power levels and loss in PON networks. Easy-to-use for technicians at any skill level, the SmartPocket V2 offers a dedicated and cost-optimized solution for testing, installing and troubleshooting PON services in the field. The most compact dual band PON power meter in the market that fits perfectly in your pocket.
Benefits
Ready when you need it - ultra-high reliability and high-availability
Dependable, German design
Designed with outdoor environment in mind
Over 70 hours continuous use with 2x AA Alkaline batteries
Instant On - no boot time
Easy to use
High-Visibility backlight graphical display with context-sensitive softkeys
Clear pass/fail information
Automatic upload of results via VIAVI Mobile Tech App
Supports co-existence of G/E-PON and XGS-PON/10G-EPON services
Key Features
Single test port connection for dual wavelength measurement
Simultaneous power level measurements for both G/E-PON & XGS-PON/10G-EPON services
Storage for over 1000 test results and PC download capability
Bluetooth low energy connectivity to the VIAVI Mobile Tech App
3-way powering - alkaline AA, NiMH AA rechargeable, AC power adapter
3-year recalibration period
Applications
Measuring optical power levels for both G/E-PON and XGS-PON/10G-EPON services
Multi-service PON deployment and installs
Network Build and Maintenance for
Enterprise/LAN
FTTA (fiber to the antenna) for 5G
FTTH
Products
The OLP-37XV2 has a single mounted SC adapter providing simultaneous selective power measurement of both G/E-PON (1490 nm) and XGS-PON/10G-EPON (1577 nm) wavelengths.